---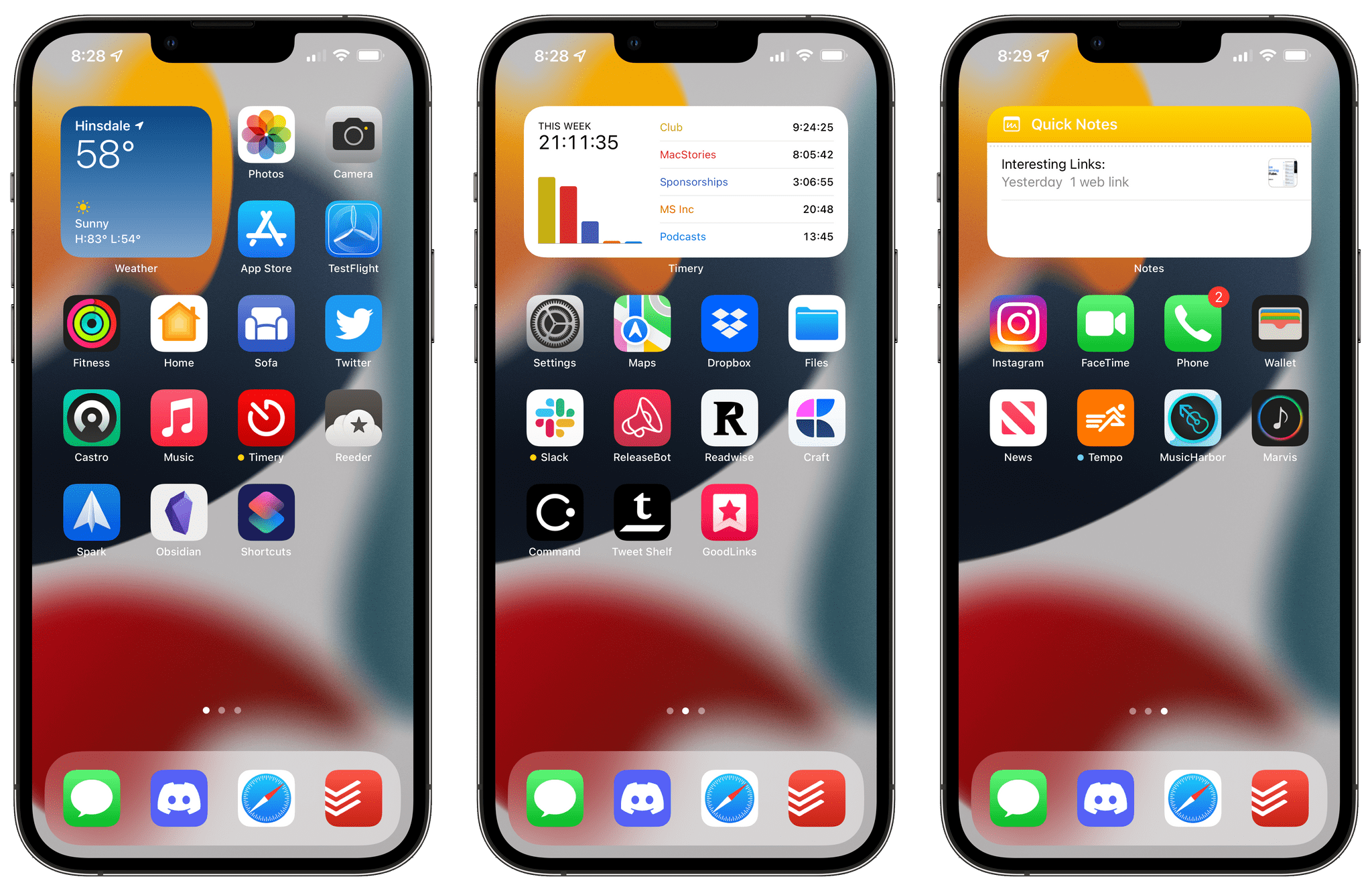 Years ago, I regularly set up new iPhones and iPads manually without restoring from a backup. Back then, Apple's process for restoring an iPhone wasn't very good, so it didn't make much difference which route I chose. Restoring a device still isn't perfect, but it's much better today than before. As a result, it's been a very long time since I set up an iPhone or iPad from scratch.
Here's the thing, though. I've had a longstanding problem with Contacts that I can't seem to work out. I've ignored the issue for a long time because I rarely use Contacts, but it creeps into other apps like Messages, where images for my contacts aren't always consistent from device to device, which is annoying.
It's never easy to pinpoint the source of what appears to be an iCloud sync issue of some sort. Over time, though, I've come to suspect my iPhone, which isn't surprising given the number of apps I test and the fact that I'm on a beta of iOS most of the year. On top of that, my iPhone 12 Pro Max had become a mess, with over 600 apps mostly hidden away in the App Library and a Home Screen setup with which I wasn't happy. So, instead of the long slow process of restoring all of that onto a brand new iPhone 13 Pro Max and then spending the time cleaning out the cruft, I declared app bankruptcy and started over.
On the plus side, my new iPhone was up and running in no time. However, the rest of the process has been a bit of a chore. What's made it tolerable, though, is that after installing a handful of critical apps I need every day, I've only added apps back on an as-needed basis. That first group of 'critical apps' included:
ReleaseBot (an internal MacStories app)
TestFlight
These are all apps I use most days, and with the exception of 1Password and Deliveries, they live on one of my Home Screens. In the following days, I've added Sofa, MusicHarbor, Readwise, Command Browser, Tweet Shelf, GoodLinks, Dropbox, iA Writer, Marvis Pro, Instagram, and CARROT Weather to my Home Screens. Everything else is in the App Library and is usually accessed using search. These apps include a lot of utilities like many of the Safari extensions I just reviewed, Working Copy, HomeRun, Numbers, and a bunch of utility apps. It's not that those apps aren't important, but I don't use them on my iPhone as much as I do on the iPad and Mac, so they get tucked out of sight until needed.
The three Home Screens I've shared above are rough draft works in progress. I expect each Home Screen to change significantly in the coming weeks as I add back more apps and set up Focus modes with custom Home Screens assigned to each. My hope is to settle on three or four default Home Screens and a core set of widgets.
What I've learned from the first five days of the process is that although I expect to add many more apps to my iPhone, I don't use it to work nearly as much as I used to, so my setup can be relatively simple with a limited number of Home Screens and widgets. Instead, I'm working on a set of Focus modes to filter out distractions when I'm busy with other activities and using other devices.
Although I still have a lot of work to do on my iPhone, one Focus mode that I set up that's already cutting down significantly on the Home Screen clutter is an App Testing mode that lets most communications and notifications through but switches to a Home Screen of apps I'm currently testing. When I have time to test, I can access those apps easily in one place, but the rest of the time, they're hidden away.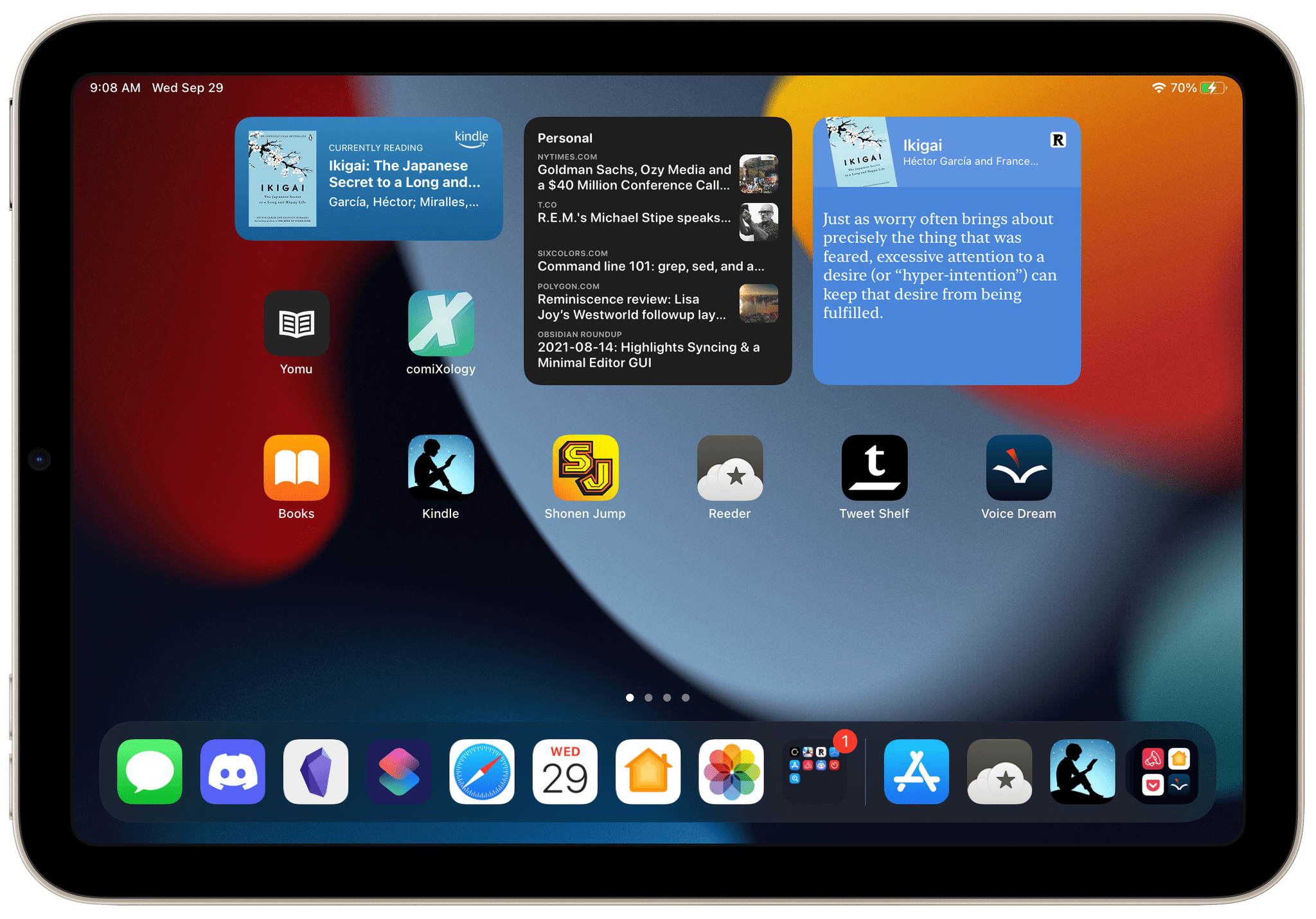 The start of a 'reading' Home Screen.
While I was rethinking my iPhone, I figured I'd do the same with my new iPad mini. The mini is primarily a downtime device for when I'm not working. I use it primarily for reading, listening to music, playing games, and watching a video. However, it's just too good of a device for research to not use it for work too.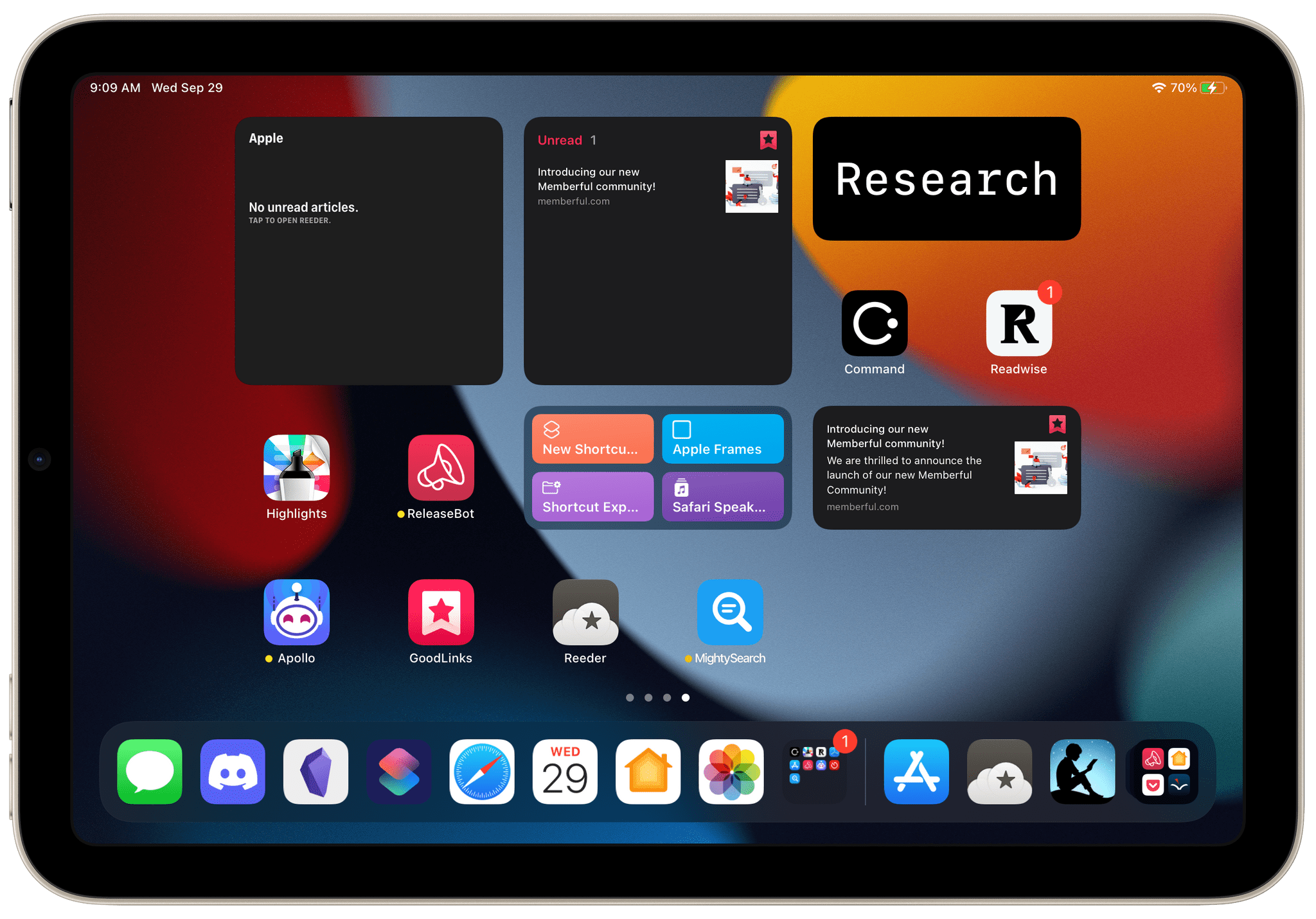 The start of my research Home Screen.
I'm taking a much more widget-heavy approach to the mini, so I can get a view into the content I have available before I open an app. As with my iPhone, the Home Screens are a work in progress, but so far, I have ones dedicated to reading, music and video, games, and research. I'll probably tie the research page to a Focus mode, but I don't plan to hide it entirely. I already use it too often to do that.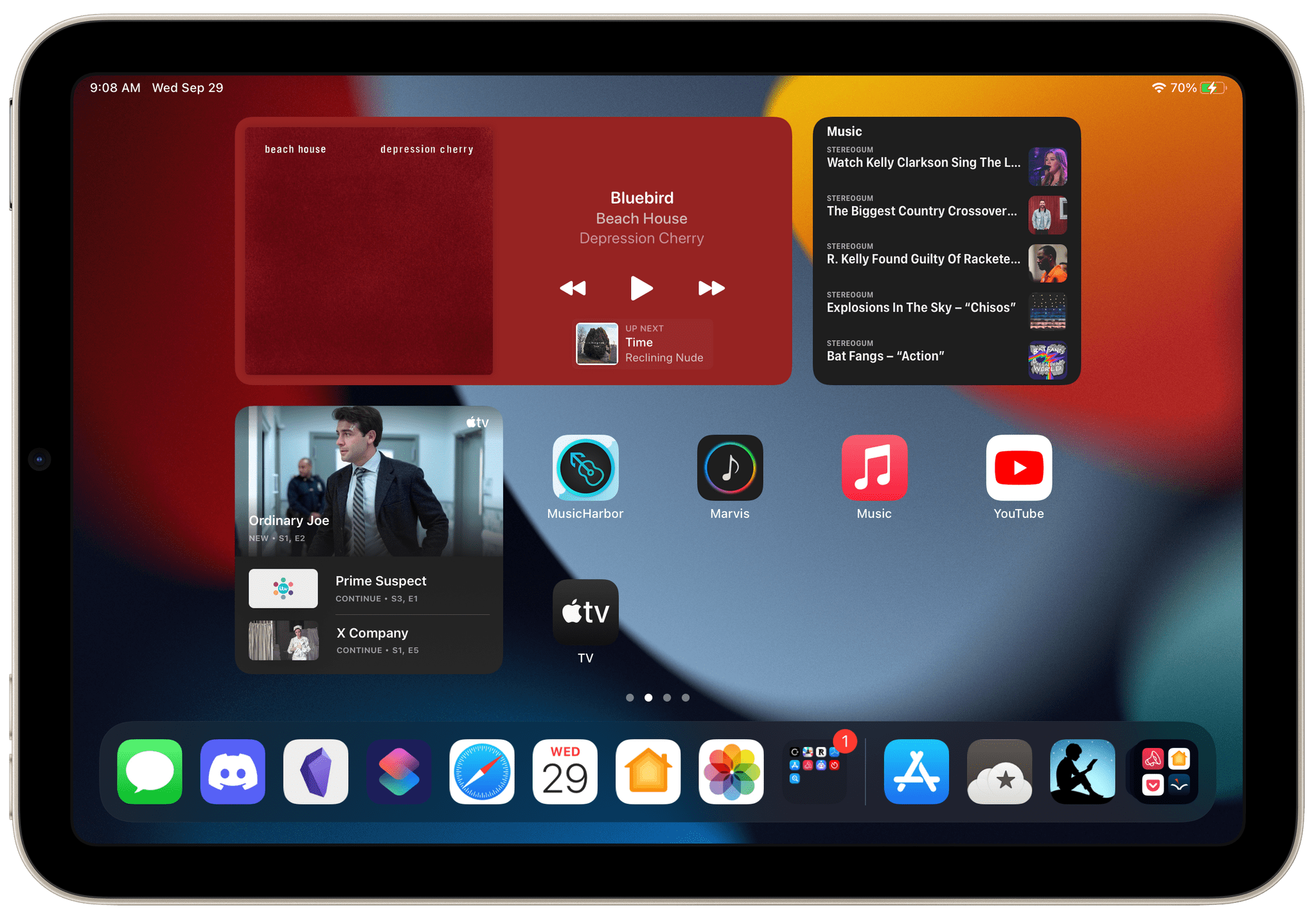 Eventually, music and video will probably each have their own Home Screens.
The only other piece of the puzzle is my iPad Pro where I'm not starting from scratch. Instead, I'll eventually get around to reworking my Home Screens and tie them into work-related Focus modes. For now, though, I already have my hands full with my iPhone and iPad mini, so that can wait.
---
Aside from cleaning up messy Home Screens and hopefully fixing some longstanding bugs, what starting from scratch has freed me to consider is how new features like Focus modes fit with the way I work and my downtime activities. If there's a downside to Focus modes, it's that combined with Home Screens and Shortcuts, they offer so many options for customization that it's tempting to tweak them endlessly.
Instead, I've found that for most activities, limiting the people and apps that can notify me is sufficient for my needs. If I'm doing something that requires several apps that are handy to have collected on one Home Screen, I'll add a Home Screen to the Focus mode, but most of the time, I'm better off just opening a text editor and starting to type, which is what I do when I find myself fussing over the color of Focus mode icons or splitting hairs over which apps belong on each Home Screen. Focus modes are one of my favorite features, but not when they become the work themselves.
-"Starting Fresh: The Painful But Productive Process of Setting Up an iPhone and iPad from Scratch"