"MacStories Weekly: Issue 301"
In this issue: An announcement about Weekly's holiday schedule, Mimestream, Federico's solution to sync playlists between Apple Music and TIDAL, Club member Fran Besora Home Screen, plus Links, App Debuts, a recap of MacStories articles, and a preview of upcoming MacStories podcasts.
Weekly's Holiday Schedule and a Note About Next Week's AppStories Episode
Longtime members may recall that we typically take a couple of weeks off in the summer and over the winter holidays to relax and recharge. This year was unusual because we launched Club MacStories+ and Club Premier right when Weekly would normally be on hiatus.
We couldn't be happier with how the expansion of the Club has gone. It's been a lot of fun for us, but also a lot of work. So, we're going to catch up on some much-needed rest over the holidays.
The December Monthly Log will be published near the end of the month as usual, and we can always be found in the Club Discord community, but we'll be taking off three weeks from publishing MacStories Weekly over the holidays to spend time with friends and family. The last issue before our break will be MacStories Weekly 302 next Friday, December 17th. We'll be back with Issue 303 on January 14th.
We've got a lot planned for next year, which we're excited to get to work on, but six years of doing this have made clear that the first step is to get a little rest before digging in.
Thanks for being part of the Club. We're fortunate to have such a fantastic group of people supporting everything we do.
Happy Holidays!
– The MacStories Team
---
AppStories+, Episode 253 Is Coming Monday
We typically publish AppStories+ a day early on Sunday, but we've got a special episode planned that we can't share until Monday, December 13th – a little later in the day than usual. Stay tuned: it will be worth the wait.
– Federico and John
Great apps, accessories, gear, and media recommended by the MacStories team.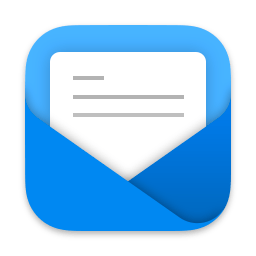 Mimestream is a Mac email client for Gmail that's currently in public beta. I wouldn't normally recommend a beta app, but Mimestream already has all of the core features you'd expect from an email app, and it's been reliable over the past month or so that I've been using it.
Before digging in further, it's worth mentioning the limitations that may be dealbreakers for some people. First, Mimestream is Gmail-only. You won't be able to use it with your iCloud email account, which is a shame, but iCloud isn't a primary email account for me, so it hasn't been an issue.
Second, there is no iOS or iPadOS app. Mimestream's developers maintain a public roadmap and say they are considering an iPhone and iPad version of the app, but they haven't committed to it yet. It's hard to imagine an email client without a mobile version, but it's possible there may never be one, which is worth keeping in mind.
Personally, neither of those caveats are short-term dealbreakers for me. I absolutely want the same email experience across all of Apple's platforms. However, the reality is that I handle most of my email on my Mac, so I've found using different apps on my Mac and other devices less of a hindrance than I expected. If next December rolls around and Mimestream's developers aren't working on iPhone and iPad versions of their app, I may need to reconsider, but for now, I'm fine with using multiple apps.
Mimestream uses Google's modern Gmail APIs, and it shows in the app's solid fundamentals. It's fast, runs smoothly, and best of all, search is top-notch. Search is one of the most critical features of any email app I use, and too often, it doesn't work well in email clients. The situation is so bad that I typically keep the Gmail app, which I'm not particularly fond of, on my iPhone and iPad for those times when search doesn't turn up something I need to find.
I haven't had to resort to logging into my Gmail account in Safari to search for messages while I've been using Mimestream. The app quickly finds every message, including the ones that other apps struggle to surface. I suppose I could use an elaborate filing system to make it easier to find old messages without search, but thanks to Gmail, I don't have to, and with Mimestream, the same powerful search you get on the web is available in a native app both online and off.
Mimestream was founded by a former Apple engineer who worked on Apple's Mail app, and it shows. The UI bears similarities to Apple Mail, which makes it familiar immediately. The app also supports familiar macOS features like swipe gestures; I've got them set up to allow me to quickly archive and delete messages. There are also keyboard shortcuts for every feature, with options to use classic Apple Mail or Gmail shortcuts depending on which you prefer.
Deep-linking to messages is something I rely on heavily. I'll often use Spark's linking feature to quickly return to a message for context, dropping links in my task manager or notes. Mimestream doesn't have deep-linking back to the app yet (it's on the roadmap), but you can copy the Gmail link to a message, which I've found has been good enough as a temporary solution. You won't find the feature in Mimestream's menu system, but if you click on the three-dot menu button in a message's header, you'll find an option to 'Copy Gmail URL.'
Along with starring messages, those features have been sufficient for my purposes, but the app also supports Gmail's automatic categorization of messages into Social, Promotions, Updates, and Forums sections (which can also be turned off), aliases, message templates, delayed message sending of up tho 30 seconds, signatures saved in Gmail, native notifications, and tracking prevention. The developers say they will be adding server-side filtering, quick unsubscribe, and out-of-office messages soon too.
Overall, my email needs are fairly straightforward, so my experience with Mimestream has been excellent. Deep linking is the one feature that I hope is added soon, and based on the pace of updates I've seen since I started using the app, I'm optimistic that the wait won't be too long. Longer-term, the lack of a mobile version may send me looking for a different solution, but for now, Mimestream has been a pleasure to use on the Mac and the email app that is most likely to be the one I stick with for 2022.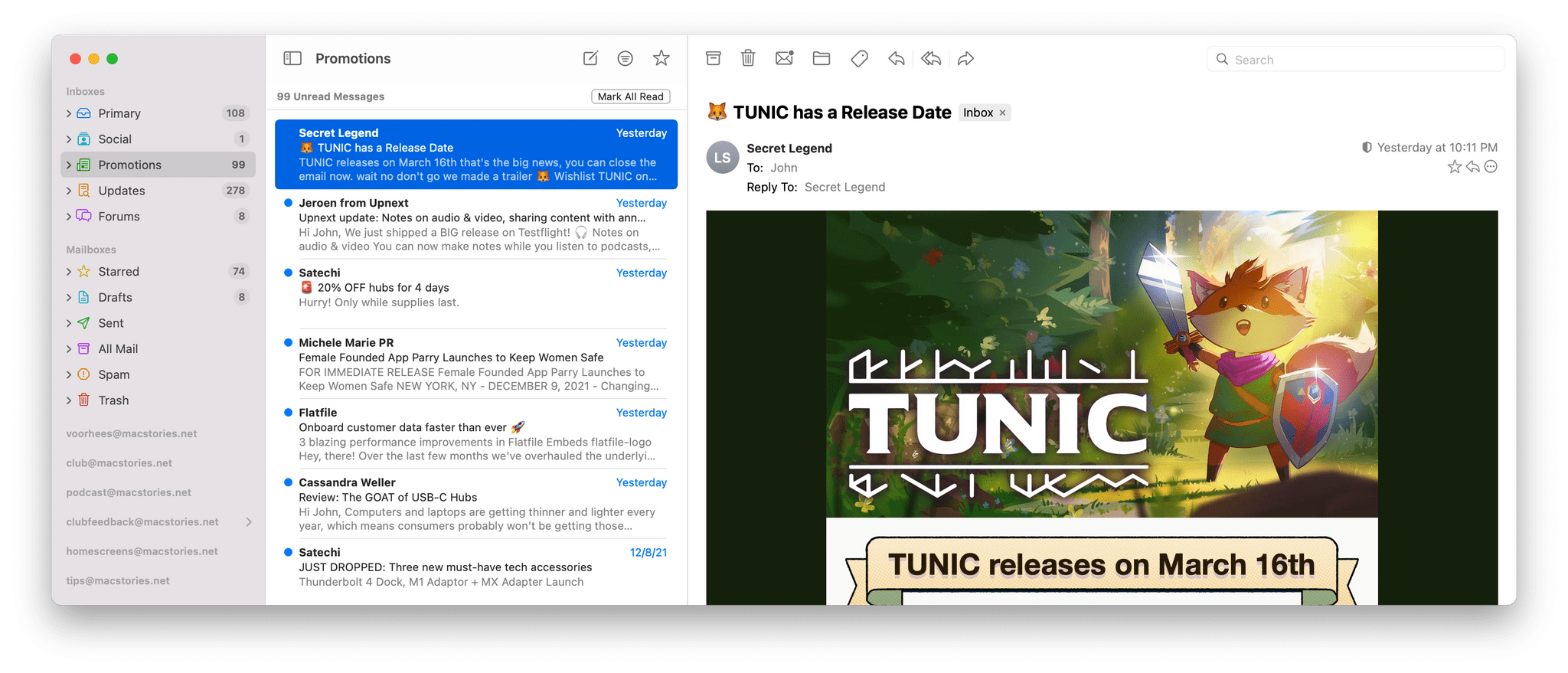 Exploring topics beyond our day-to-day coverage.
In Issue 300 of MacStories Weekly, I showed off my music Home Screen and explained why I started using TIDAL instead of Qobuz as my supplemental music streaming service in addition to Apple Music. (Long story short: Apple Music doesn't have Roon integration and I really love using Roon with my DAC; plus, I appreciate TIDAL's commitment to fair artist compensation.) I don't know why I just thought about this now and didn't even consider the option before, but earlier this week I started wondering if it was possible to keep my playlists in sync between Apple Music and TIDAL. I don't mean copying playlists over from one service to another only once, but actually syncing them automatically, on a regular basis, without any manual input needed.
As it turns out, there's a very good solution for this, and it's a service called Soundiiz.
There are many things Soundiiz can do, including importing and exporting music libraries in formats such as M3U and CSV, but I want to highlight two features I took advantage of this week, which pushed me to become a paid subscriber right away. For starters, Soundiiz isn't an app that runs on your iPhone or iPad like SongShift, which you have to remember to open manually: it's a web service that connects directly to a plethora of music streaming services via their APIs and runs uninterrupted in the cloud. It's important to keep this in mind since it is what ultimately differentiates Soundiiz from similar apps I tried in the past.
After I connected my Apple Music and TIDAL accounts to Soundiiz, I chose to start with a seemingly daunting step: migrating my entire library from Apple Music to TIDAL in one go. Soundiiz lets you do this with a feature called 'Platform to Platform' transfer, and it's effectively a copy of multiple items at once from one service to another that you can leave running in the background. In my case, I copied roughly 2,200 albums and 1,200 artists to TIDAL since I figured having this data set in my account would help TIDAL come up with more interesting recommendations for me in the future.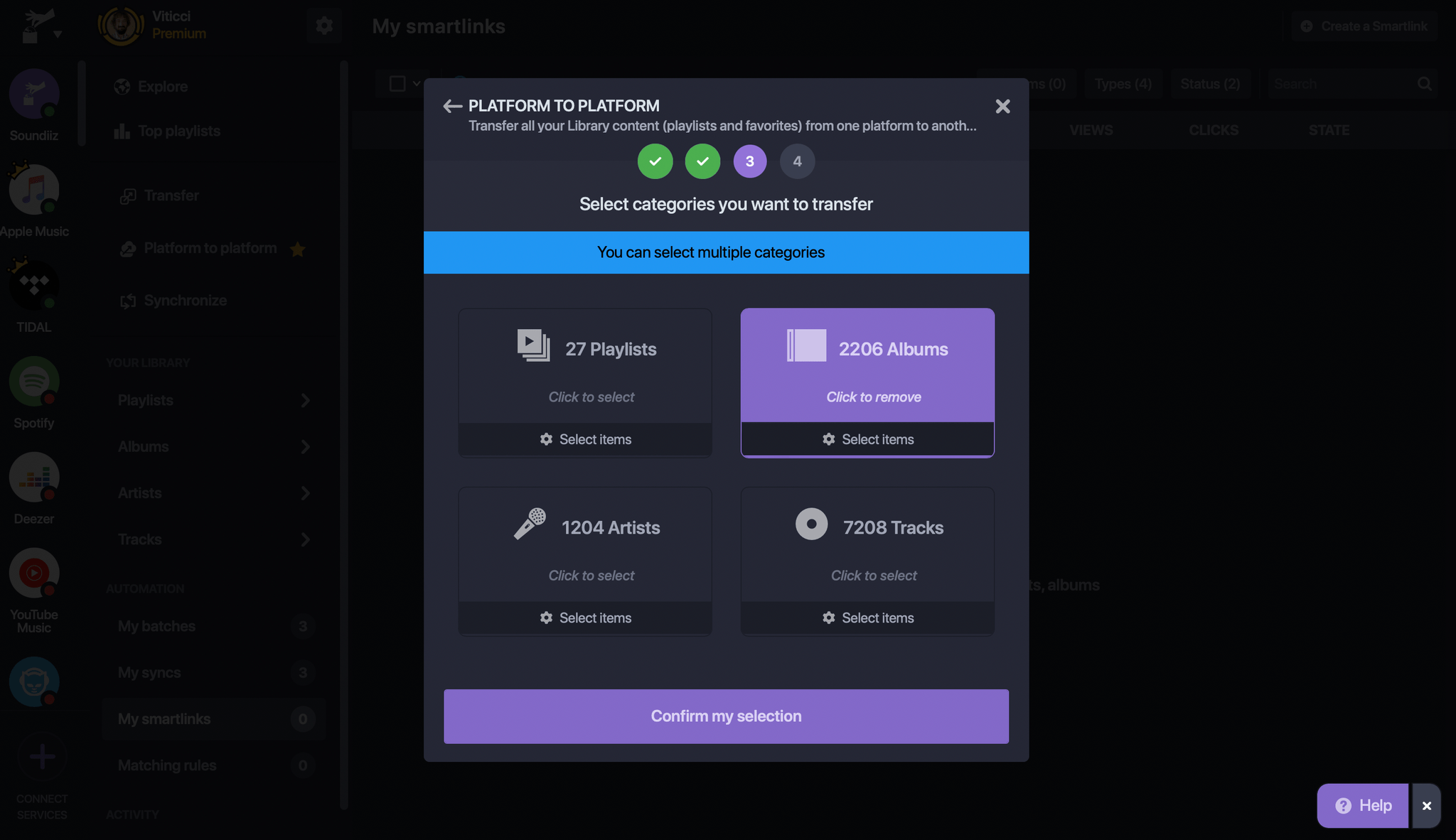 Copying library items from Apple Music to TIDAL via Soundiiz.
Soundiiz's UI to perform these batch operations is intuitive and, more importantly, the service is fast: thousands of items were matched and copied to my TIDAL account in just a couple of minutes. Soundiiz even lets you inspect the results of a successful batch operation with a full log you can browse and filter for errors. In my tests, there were a handful of albums that couldn't be copied from Apple Music to TIDAL, but the error rate seemed lower than what I'd seen in the past in other transfer utilities. Then again, most of those apps are limited to moving playlists between services: I've never seen a transfer tool that can copy thousands of library items in just a few minutes – until Soundiiz.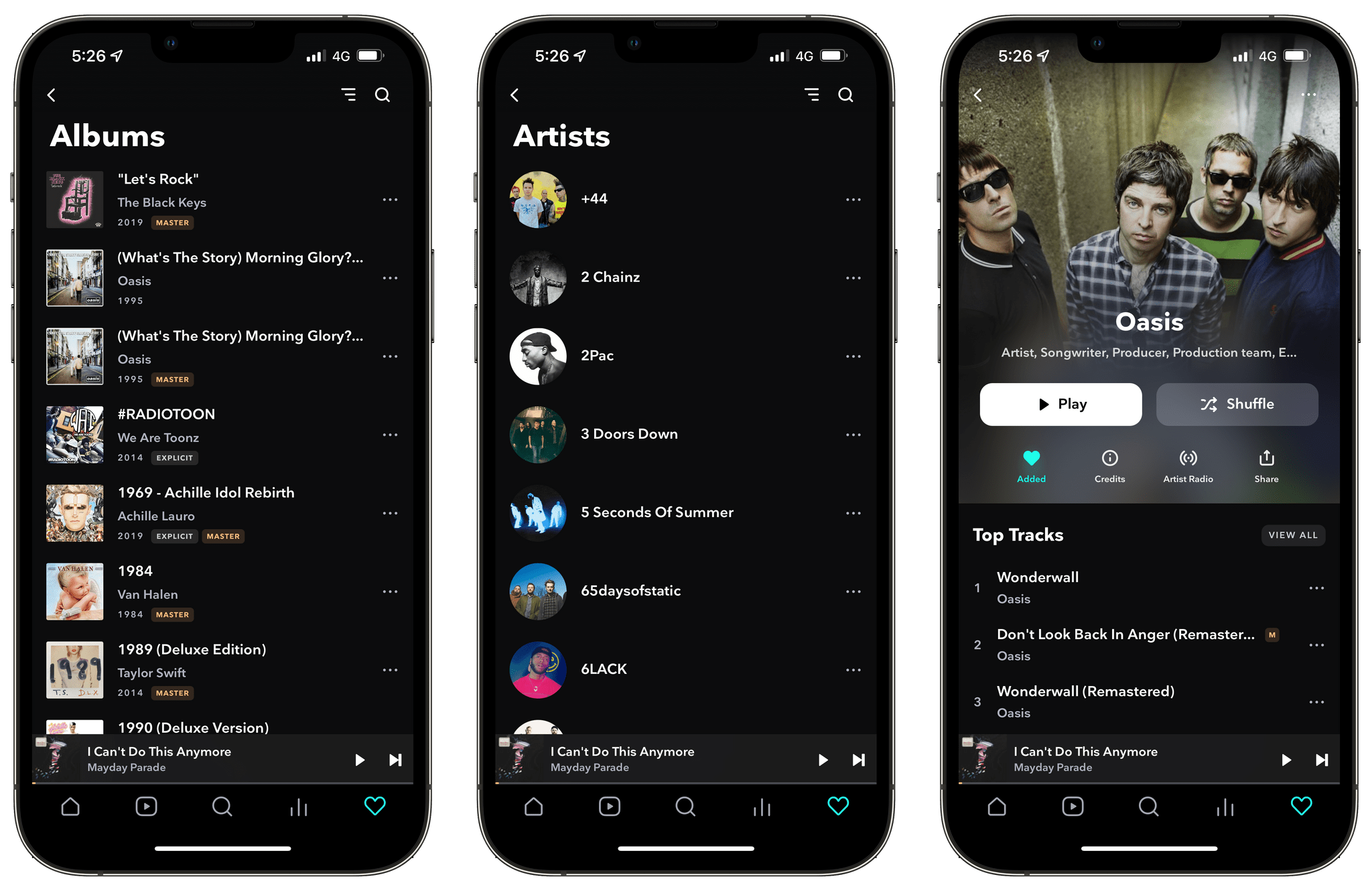 My TIDAL library after Soundiiz's copy.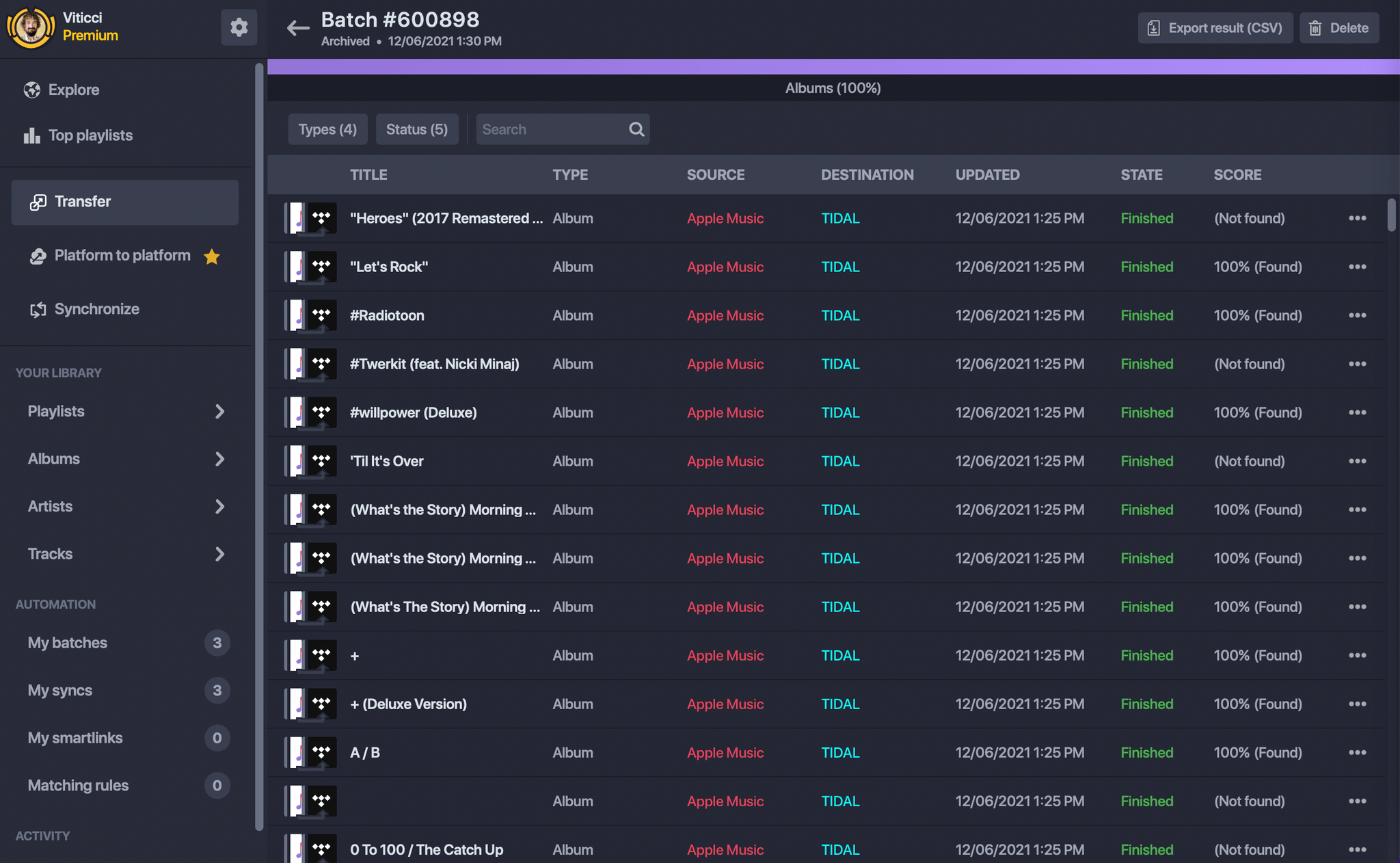 Results logged by Soundiiz.
My favorite feature of Soundiiz, however, is the ability to keep the same playlist in sync between two streaming services. My idea was simple enough: can I continue using Apple Music as my primary music streaming service, keep curating my playlists there, but also sync them at a regular interval to TIDAL, so that I can enjoy the same playlist in two places depending on the equipment I'm using? Soundiiz makes this extremely easy: in the Synchronize tab, I picked a source playlist from Apple Music, selected TIDAL as destination, and chose to create a new playlist (you can also pick an existing playlist in the destination service, but my TIDAL account was empty).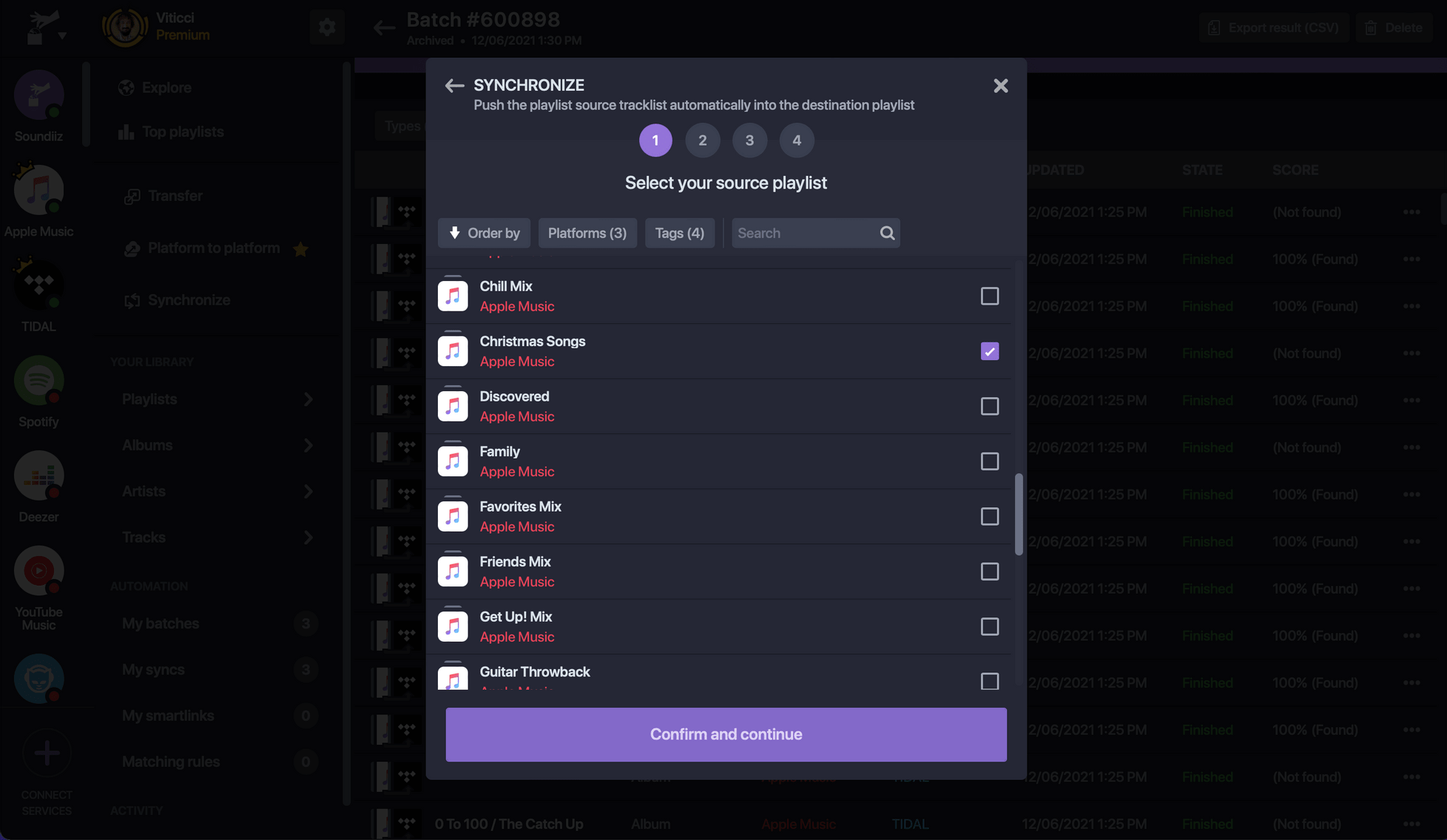 Picking a source playlist.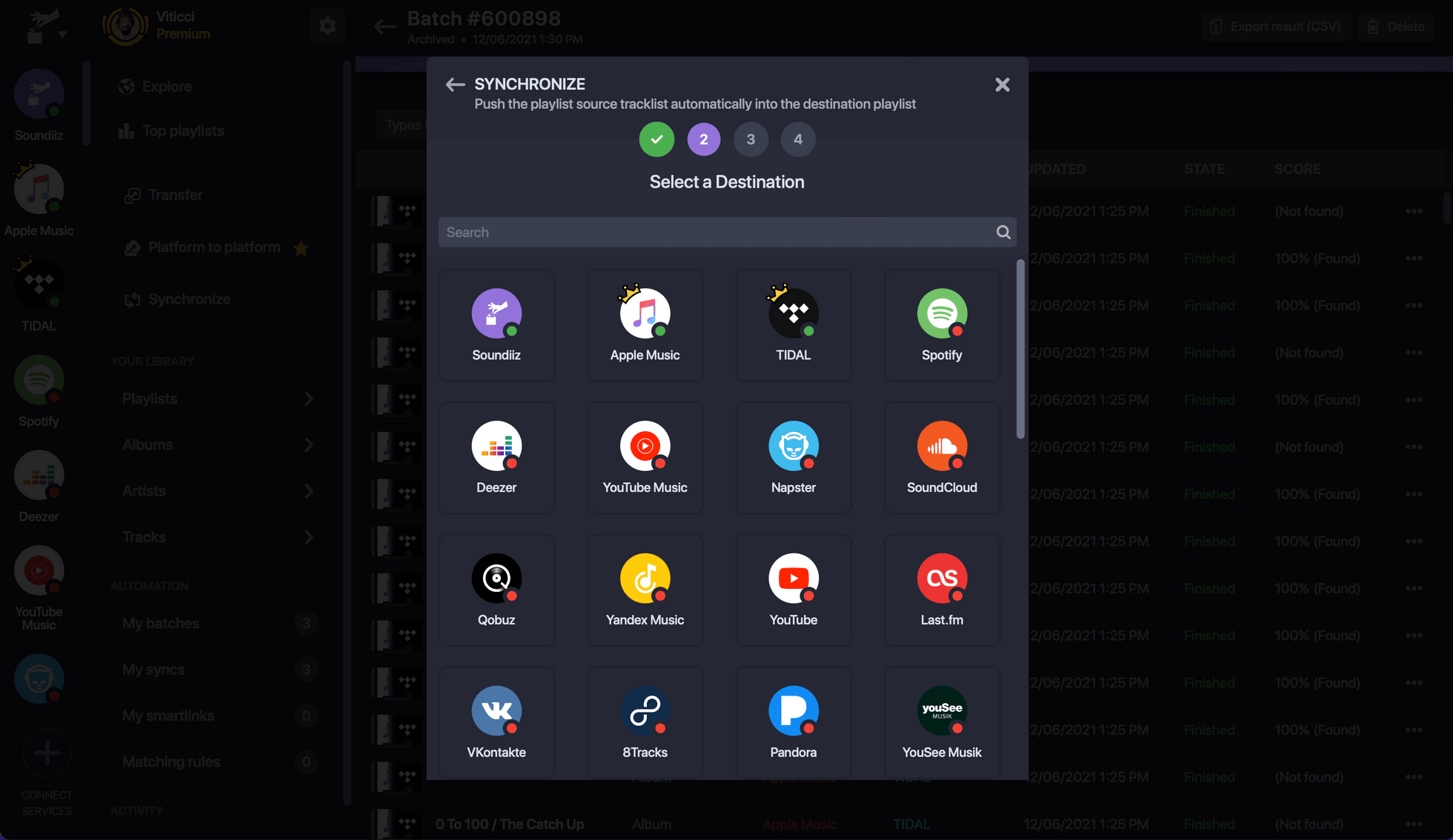 Picking a destination service.
The last step of a synced playlist's configuration is where Soundiiz's best features come in: you can set a playlist to be synced daily (or weekly), and you can choose to either append songs to the end of the destination playlist, or you can replace all tracks on the destination playlist with songs from the source playlist every time the sync runs.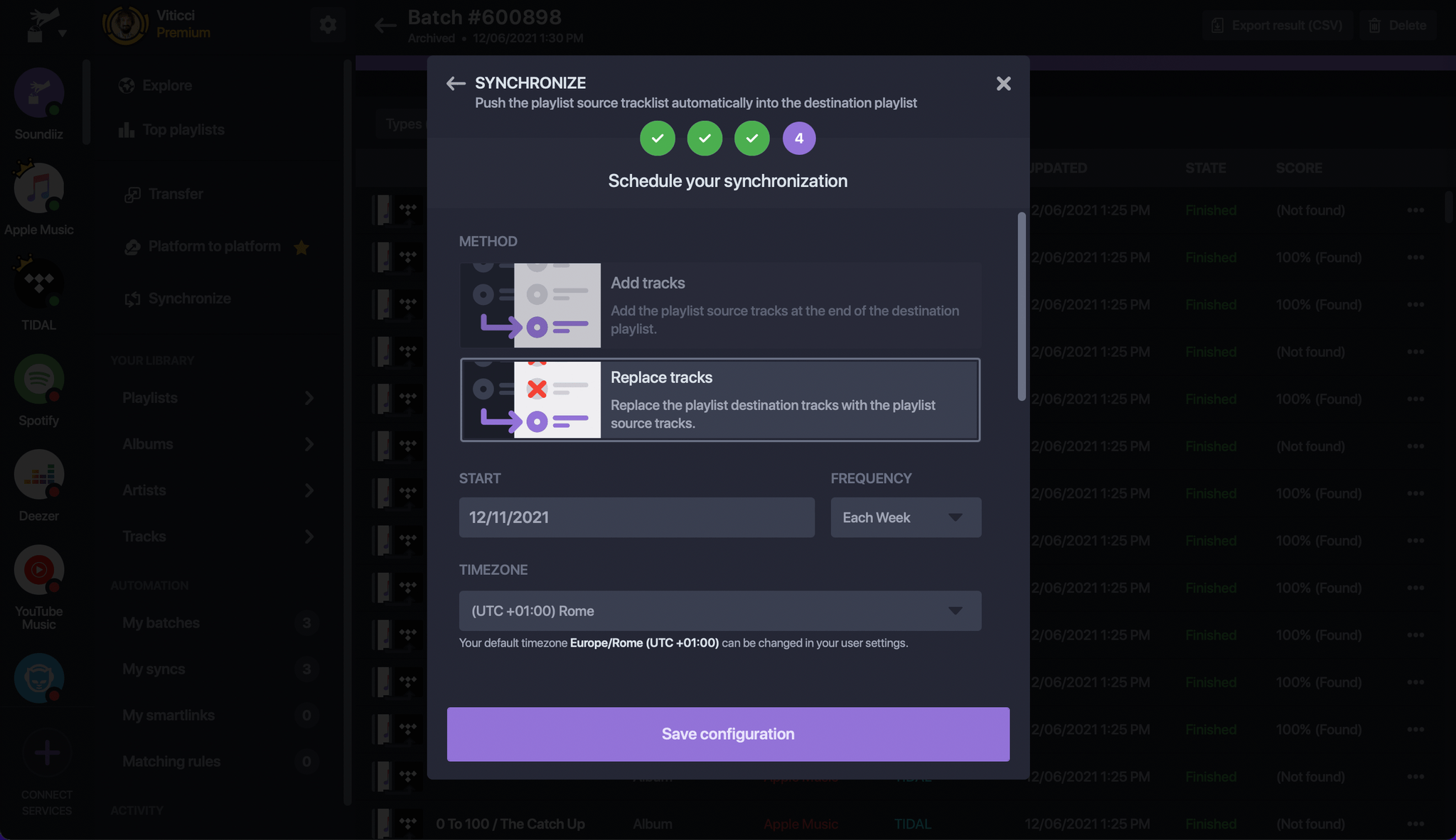 The different sync methods in Soundiiz.
These two different sync methods have their own advantages and use cases. The 'add' sync method is useful for those playlists that get refreshed on a weekly basis, and you want to make sure you archive their contents somewhere else before they disappear. For instance, this is the method you should use if you want to build an 'archive' playlist for your Spotify Discover Weekly or Apple Music Favorites Mix. Pick one of those playlists as source, set the sync to run weekly on the day after they get updated, and append all tracks to another playlist. Over time, you'll end up with a giant playlist containing hundreds of tracks you're likely to enjoy.
In my case, the 'replace' method is what I was after. To mirror my most-used Apple Music playlists (Best of the Year, Family, and All-Time Faves) to TIDAL, I needed to set up an automated sync that would fetch the latest version of each playlist every day and recreate it in the destination service. With this approach, I can keep adding new songs to my Apple Music playlists as normal, and Soundiiz will recreate them every day in TIDAL; I don't have to remember to manually sync those playlists from Apple Music to TIDAL, which makes the entire process frictionless and, ultimately, more enjoyable for me.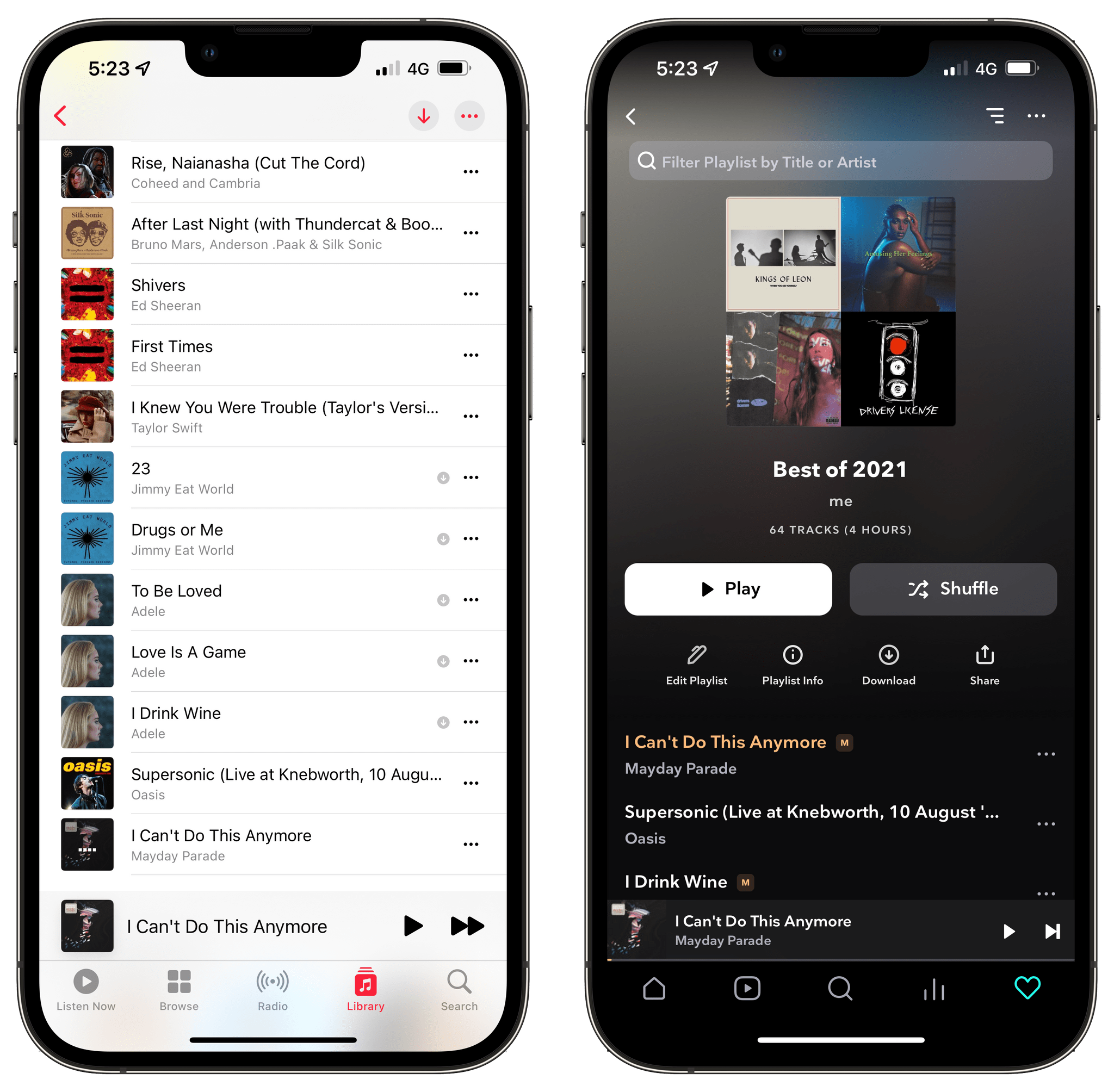 The same playlist from Apple Music (left) gets synced to TIDAL every day (where, thankfully, I can sort it by most recently added).
Soundiiz has been a genuinely amazing surprise over the past week, and I recommend the service if you're into the whole concept of data portability between multiple music streaming services. (There's a long list of supported services in Soundiiz, including some I've never heard of.) The only feature I wasn't able to find in Soundiiz is merging playlists: the service can only mirror one playlist to another – it cannot merge changes from two playlists at the same time. I understand that this is a limitation of the APIs provided by different streaming providers, and it's not a dealbreaker for me. I just wanted an easy way to mirror certain playlists from Apple Music to TIDAL, and Soundiiz is the fastest, most reliable automated solution I've found to date.
Highlights of the latest Club MacStories+ happenings.
It was a busy week on the Club MacStories+ Discord, and I've tried my best to collect highlights from the community below. There isn't a Discord URL scheme to reopen these links in the Discord app directly; my preferred approach for these is to view them as separate tabs in Safari for iPad or Mac.
Earlier this week, I shared a simple shortcut I've been using for the past few months to make Home Screen icons using SF Symbols. It's based on Toolbox Pro.
Member David shared a useful set of resources and tips for the new Markdown text editor that recently came out of beta, Typora.
Fran, also featured in this week's Home Screen section, shared a shortcut to count the days between the current date and a specific date in the future.
I was browsing around the Apple ID website earlier this week, and I downloaded images Apple uses for their intro animation.
Want to join the the Club MacStories+ Discord? Upgrade to Club MacStories+ or Club Premier, then visit the Account page.
Great reads and links from around the web.
Club member Dan Stransky has updated his excellent shortcut for simplifying the process of picking a new iPhone wallpaper manually or randomly. (Link)
9to5Mac reports that the Eve Room HomeKit device that tracks temperature, humidity, and air quality has been updated with Thread radio support to improve its responsiveness on WiFi networks. (Link)
GitHub user shy-neon, who is also a Club member, shared a utility this week that allows you to switch the icons used on Safari's Start Page to one of your own choosing. (Link)
Parag Agrawal, Twitter's new CEO, has wasted no time shaking up things at the company, as explained in this piece in The Verge by Alex Heath. (Link)
Sebastian Skov Andersen takes a nostalgic look back at the Tamagotchi, which recently celebrated its 25th anniversary. (Link)
The New York Times examines the effect of third-party sellers on Amazon's bookstore through the story of an author who sued the company for undercutting his business. (Link)
Wired reviews the Jackrabbit, a tiny e-bike that starts at $1,000, which is substantially less than most of its competitors. (Link)
Satechi introduced a Thunderbolt 4 dock this week for $299, which includes three Thunderbolt 4 ports, three USB-A 3.2 ports, one USB-A 2.0 port, Gigabit Ethernet, a Thunderbolt 4 host port with 96W PD, a UHS-II SD card reader, and a 3.5mm headphone jack. (Link)
Craft 2.0 is a modest update to the app, but its makers at Luki Labs took the opportunity to announce that its beta web app will reach feature parity with its native apps in the first quarter of 2022, a host of editor and collaboration refinements are on the way, and third-party developers can begin making extensions for the app based on web technologies. (Link)
Apple has updated its open source website with a page featuring Apple and community projects. The company has also begun publishing its open source code as git repositories on GitHub. (Link)
ABYSS, the maker of high-end headphones, tests whether an M1 Mac can power high-resolution, audiophile headphones in this YouTube video. (Link)
Noteworthy new app releases and updates, handpicked by the MacStories team.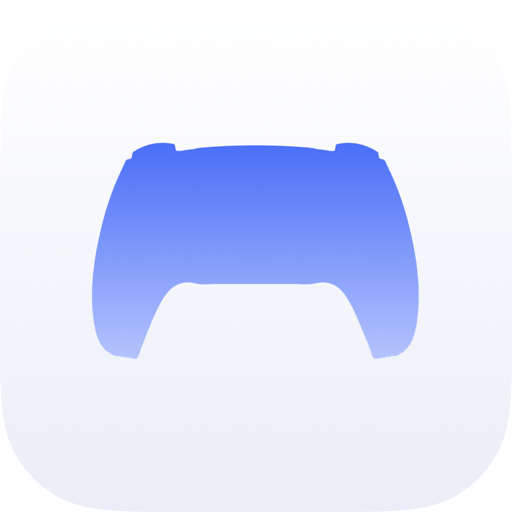 PS5 Controller Trigger Test is a utility for testing the PS5 DualSense controller's haptic feedback system. The app allows users to independently set finely-tuned values for each of the controller's triggers, control its light, and monitor battery life. Whether you're simply curious about the range of the DualSense controller's haptics or are working on developing a game for the system, this is an app worth checking out.
---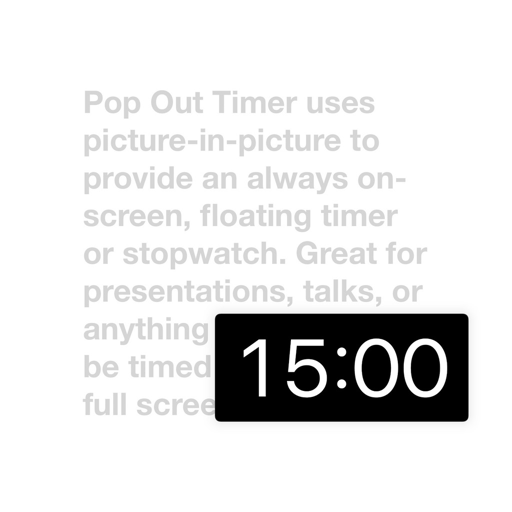 Pop Out is a timer and stopwatch app that uses the same Picture-in-Picture method that Yoink uses to remain active in the background. With the floating timer app's latest update, it no longer pauses when audio or video is played by other apps. That means you can use the app for timing workouts while listening to music or time your time-wasting web browsing without autoplay media interrupting your timer.
---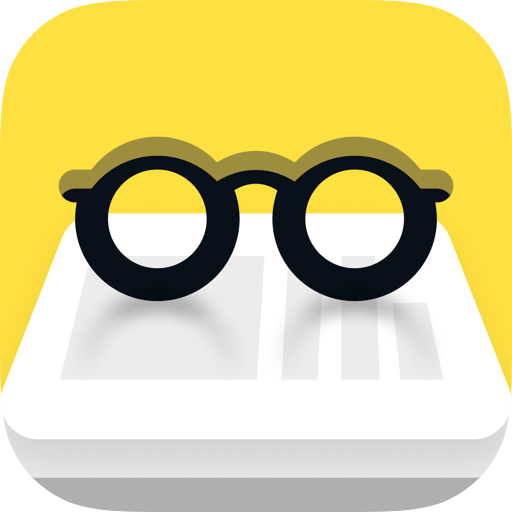 Alfread is a read-later app that integrates with Pocket and Instapaper, although it can also be used independently from those services. The app's hook is that it offers to set reading goals. Pick how many articles you want to read each week, and Alfread tracks your progress. The app also makes it easy to archive stories you don't get around to reading and integrates with Readwise, so highlights are synced to that service.
---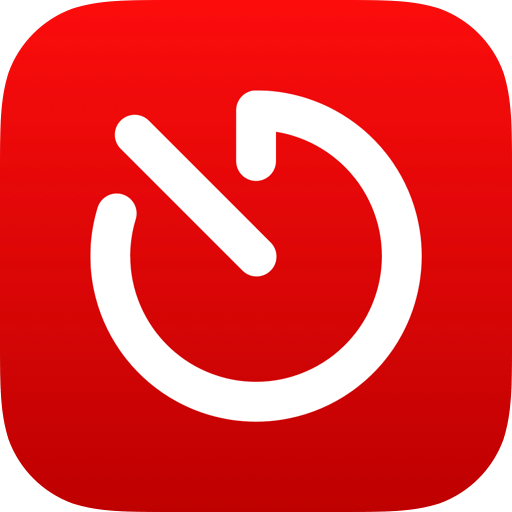 Many of Timery's recent updates have focused on its reporting system that debuted in the fall. With this week's update, developer Joe Hribar has made a grab bag of smaller changes that make the app easier to use and add other refinements. Reports can now be based on the past seven days instead of calendar weeks, start and stop times are easier to adjust, the app refreshes in the background, there are new buttons for quickly accessing time-entry actions, and there are more start and stop options in the app's Shortcuts actions. I make small adjustments to time entries a lot, and together these changes have made that process noticeably faster than in the past.
---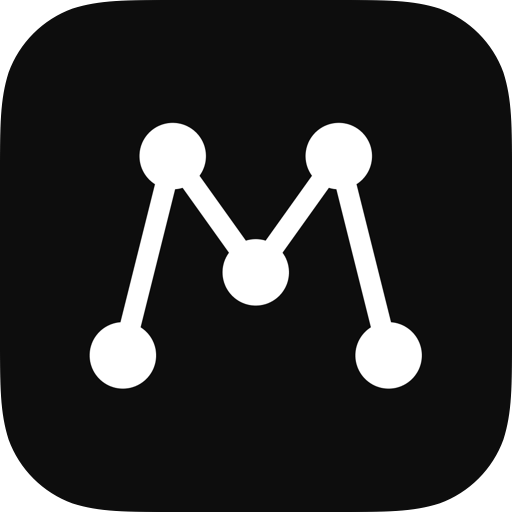 Matter is a read-later app that has begun to grab my attention. I'm not a fan of its Discover and Inbox features. I don't need more to read, and the articles the app suggests are almost entirely Silicon Valley think pieces, and its roster of suggested authors is too limited. However, the app's parser for saved articles is excellent, and I love the option to have stories read aloud by what is one of the best speech synthesis engines I've heard. The app also offers tagging of stories, search, and a few sorting options.
This week, the app added a couple of features. The first is the ability to export stories as PDFs. It's not something I frequently do, but the the app's PDFs look good and are easy to share or store for archival purposes. Matter also added an official Obsidian plugin that syncs highlights from the app to your Obsidian vault. I'd like to see the metadata it saves and the formatting of the highlights it automatically syncs to Obsidian refined, but having highlights synced automatically without relying on a middleman service like Readwise is a big advantage.
---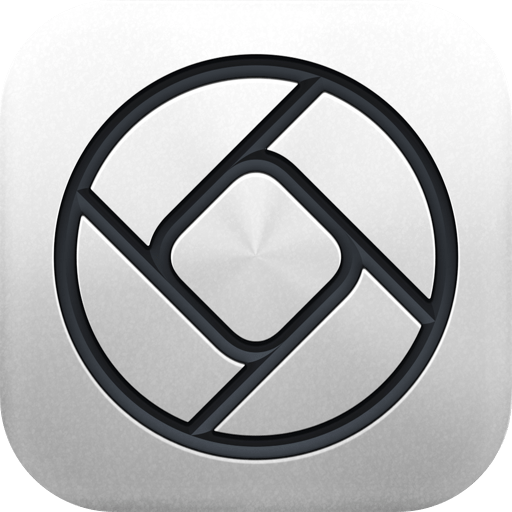 This week, pro camera app Halide added a collection of widgets to launch the app into particular modes. Whether you want to be immediately taken to Halide's macro mode, which I covered earlier this year, or its telephoto lens, these widgets will allow you to do that.
Friends of MacStories share their iPhone, iPad, and Apple Watch Home screens.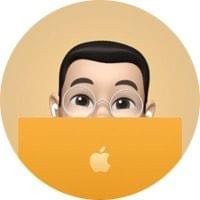 Fran Besora
Twitter @fraanb. Club MacStories member.

I've been a huge fan of Focus modes since Apple introduced them at WWDC 2021 last June. The idea behind this feature is amazing to me. I can have multiple Home Screens through the day with different apps depending on my needs. I like the Focus mode approach that Federico has explained on AppStories and Connected, so I recreated it with modifications for my iPhone too.
The Setup
I have a minimal Home Screen that only has the eight apps I use most throughout the day. If I need another app, I search for it in the App Library or Spotlight. The apps on my main Home Screen are: Marvis Pro (both Federico and John covered their setups in MacStories Weekly), Tot Pocket, Photos and Reeder in the first row. And Messages, Apollo for Reddit, Tweetbot and WhatsApp in the second row. On my dock are Craft, Remind Me Faster (my task manager is GoodTask because it uses the Reminders API), Safari, and the Shortcuts app.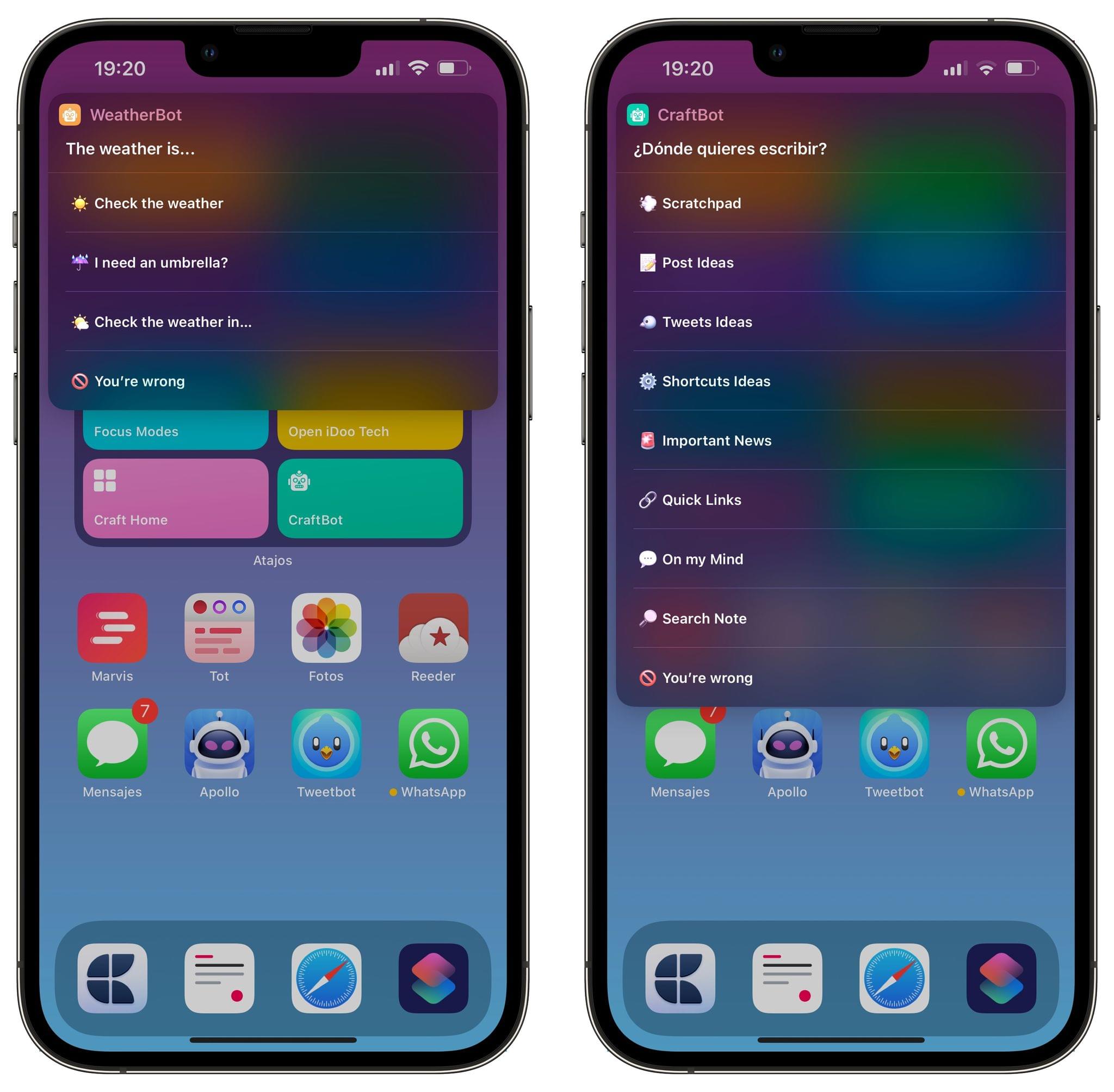 My WeatherBot shortcut.
The two widgets on my Home Screen have the shortcuts I use most often. I don't use a Smart Stack because I prefer see all of my shortcuts. WhatsAppBot is a shortcut with a 'Choose from Menu' action that lets me send quick messages; WeatherBot lets me know the current weather in my location (high, low and precipitation chance), whether I need an umbrella, and the weather in a specific location using Toolbox Pro because the Shortcuts app can't convert text to a location; and Apple Frames. In the second widget I have my Focus modes shortcut with a 'Choose from Menu' action; Craft Home, which opens my Dashboard note; and CraftBot, which lets me append text to different notes and search them. In the Today page, I have four widgets: GoodTask, Timery, Activity and Battery.
I like the idea behind Federico's setup with the ability to change between Focus modes with two shortcuts: one to select the Focus and another to reset to a default mode. Instead of having the two shortcuts in a medium widget in the same position of each focus like Federico does, I have a shortcut that lets me change between Focuses and small widget that resets my active Focus, which are in the same position in the different modes. Although I'm not always in a Focus mode, I have six of them: Do Not Disturb, Work, Fitness, Music, Reading, and Mindfulness. Every Focus has different apps and notification permissions.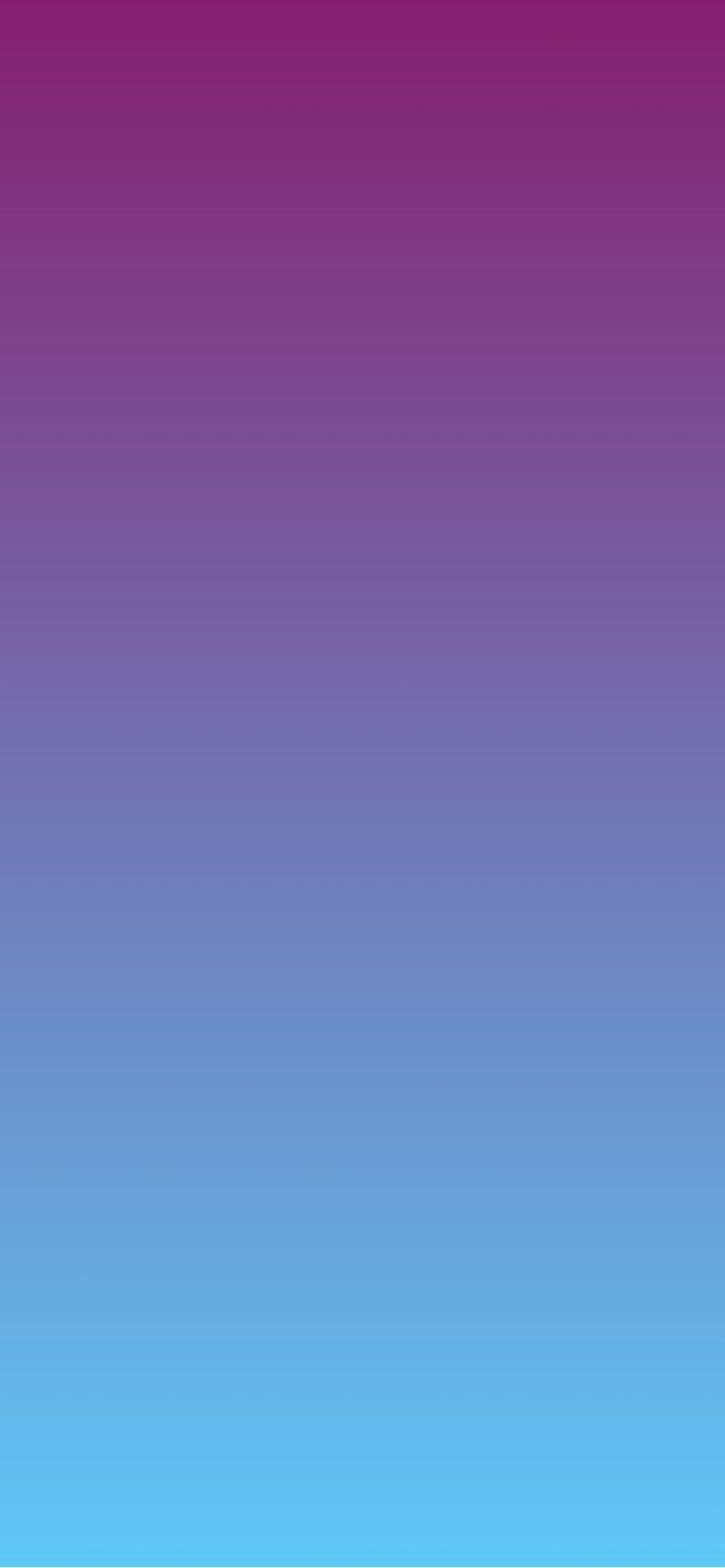 My wallpaper.
For the wallpaper, I recreated Federico's iOS 15 review wallpaper using Toolbox Pro to extract the HEX colors and WallCreator to make it. You can download it here.
The Focus Modes
My Do Not Disturb automation for the Apple Watch.
The apps in my Do Not Disturb Focus mode are the same that are on my main Home Screen, but my notifications are set up differently. In Do Not Disturb I don't get any notifications. This Focus turns on and off automatically with an automation filter inside the Settings app. When it is activated, I get a notification on my Apple Watch that displays the iPhone battery.
The Work mode Home Screen includes a medium Timery widget at the top, a small Reset Focus shortcut in the middle left, GoodTask, Notes, Apple Frames and Tot Pocket. At the bottom of the screen, there's a medium GoodTask widget that displays a Smart List with the tasks for the next five days that is based on a post in MacStories Weekly.
The Fitness mode Home Screen has a Marvis medium widget at the top of the screen, a small widget to reset the mode with a shortcut in the middle left, Activity, Music, Marvis and the running app Tempo. At the bottom, I've added a medium Activity widget.
The Music mode Home Screen has a medium Marvis widget, a shortcut to reset my Focus mode, Castro, Music, Marvis and Miximum, a third-party music app that lets me search inside my playlists and create playlists with filters. At the bottom of the screen I have a medium Castro widget.
My Reading mode Home Screen includes a medium Reeder widget, the same shortcut for resetting my Focus mode, Reeder, Apollo, Discord, and Mailbrew. The last one is a service that sends me a newsletter with my interests at specific times of the day. At the bottom, I have a medium LookUp widget with the word of the day.
Finally, my Mindfulness mode Home Screen has a medium Motivation widget, the same shortcut to reset the Focus, Activity, Health, Headspace, Strides (a habit tracker), Unwind (for mindful breathing), stoic (which is similar to Day One), Day One, and Endel (white noise app and winner of an App Store Award in 2020).
The idea behind my setup is to be in a Focus mode for each activity, such as listening to music or reading something on Reddit or the Club Discord. When I want to do these activities, I don't want notifications of any kind.
Our top stories from the past week.
Wallpaper Tours Apple Park's Design Studio
Pok Pok Playroom Releases Major Town Toy Expansion
A preview of upcoming MacStories podcast episodes.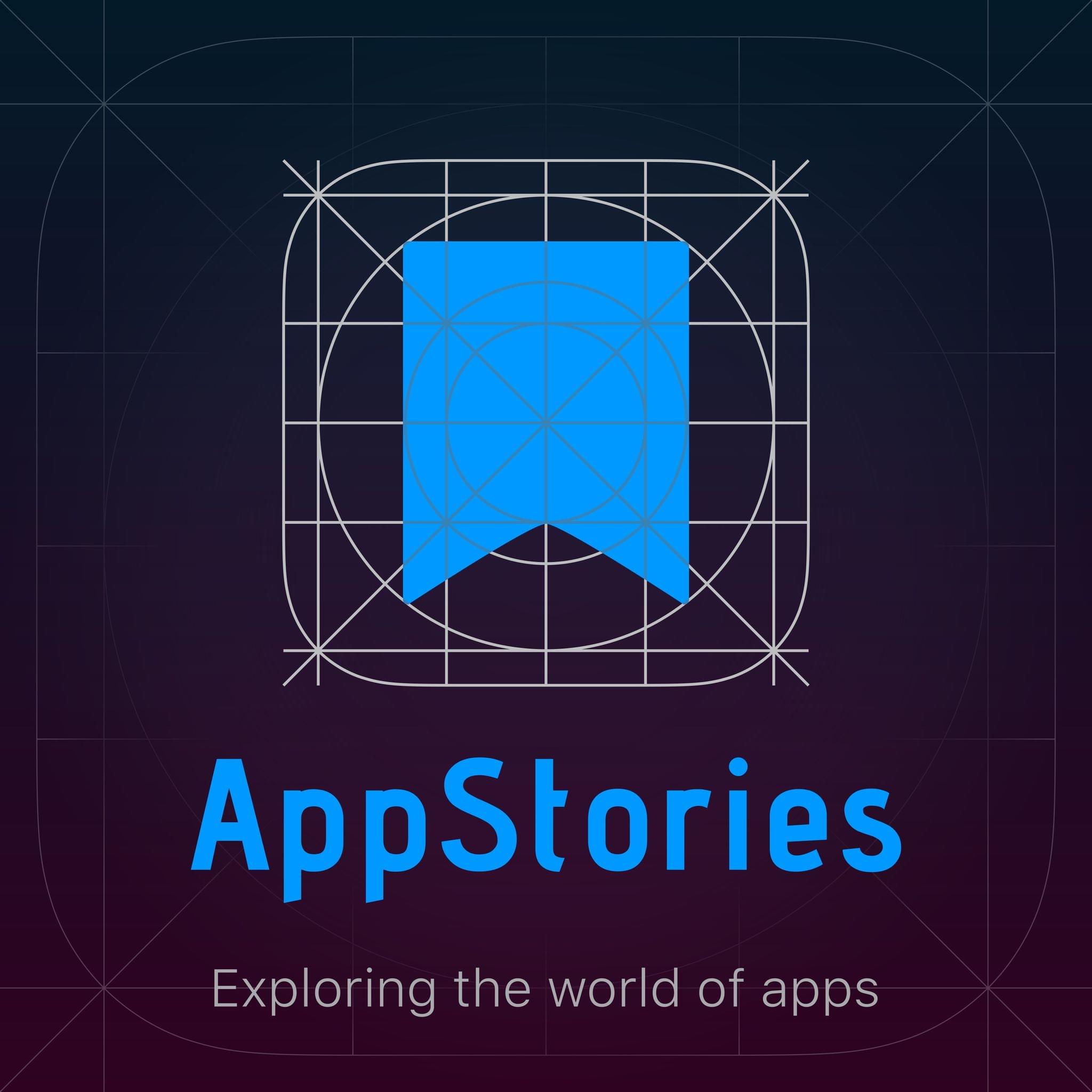 Next week on AppStories, we have a special episode planned, which we aren't ready to reveal just yet. Both the AppStories+ and regular version of the show will be published on Monday, December 13th a little later than usual.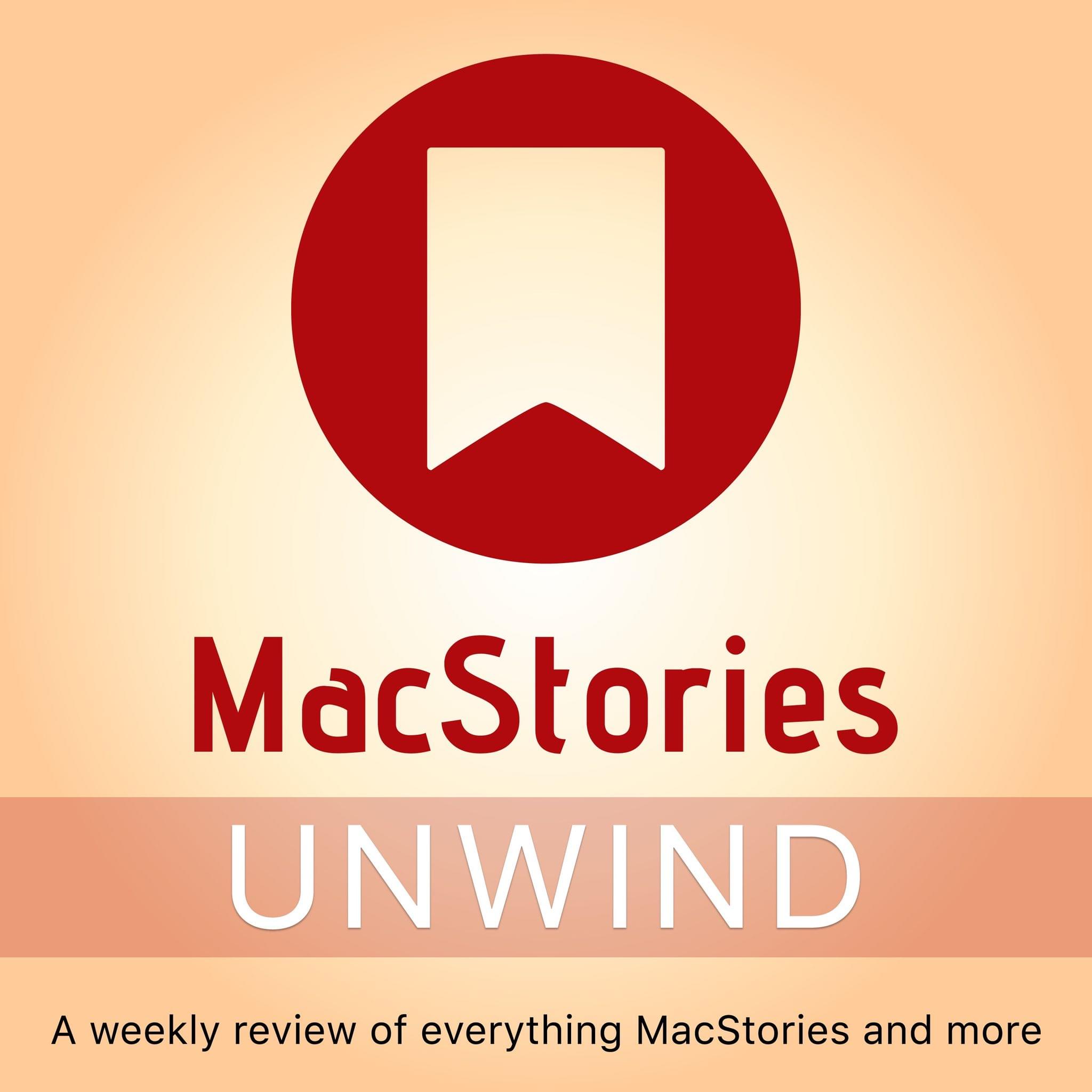 This week on MacStories Unwind, Federico and John run down their favorite TV shows and movies of 2021, along with the highlights of what's been going on at MacStories.