---
In this issue: Federico recommends Remind Me Faster and shares a Reminders tagging tip, John imagines the ideal modern read-it-later app, plus the usual App Debuts, Interesting Links, the latest happenings in the Club MacStories+ Discord community, a preview of upcoming MacStories podcast episodes, and a recap of MacStories articles.
AppStories 'Unleashed:' Recording Live in Discord on Monday
On Monday, October 18th, Apple is hosting an online event where it's expected to reveal new Macs. We'll be covering everything announced on MacStories and then hosting a live recording of AppStories in the Club MacStories Discord community where we'll be joined by Alex Guyot to recap the event and share our first impressions. We'll be taking questions from listeners too, so join us at 5:00 PM Eastern US time on Monday for what should be a fun episode. If you're not a Club MacStories+ or Club Premier member and would like to join us you can learn more and sign up at plus.club.
– Federico, John, and Alex
Great apps, accessories, gear, and media recommended by the MacStories team.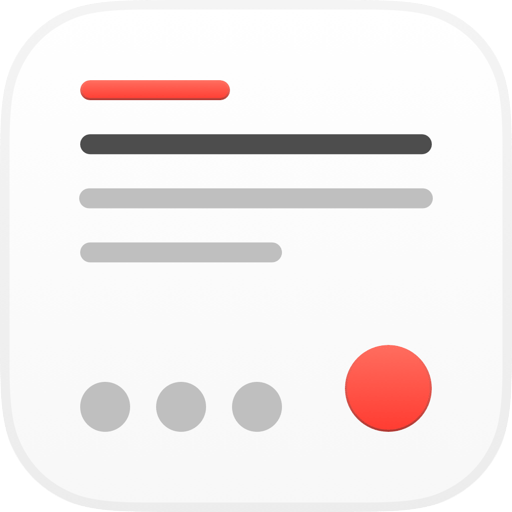 As I shared before on Twitter and AppStories, one of the sleeper hits of this year's iOS and iPadOS release is the updated Reminders app. Although Reminders remains an approachable, lightweight to-do app that doesn't burden casual users with options and settings, Apple managed to add complexity for those who seek more control in the form of tags and custom Smart Lists, which join the existing options for subtasks, attachments, and iMessage reminders. The result is an application that looks simple on the surface (and it is!), but can be surprisingly adapted to fit power users' workflows.
I'm fascinated by the improvements to Apple's Reminders app, and I plan to dig deeper into its potential for automation and Shortcuts integration in the second lesson of the Automation Academy, which I will publish for Club MacStories+ and Club Premier members later this month. Today, however, I want to focus on one feature of Reminders, or lack thereof, which could use some improvements: task quick entry.
Apple has done a lot of work over the past few years to improve how you can quickly enter new items in Reminders. On iPad, specifically, the company added new keyboard shortcuts to set due dates and flags; combined with support for natural language parsing of dates, that helps when it comes to jotting down reminders from an external keyboard. I still don't think the process is speedy enough though; whenever I try Reminders, I find myself wishing for a 'quick entry' feature reminiscent of other task managers such as Todoist and Things with the ability to set priorities and change lists in addition to adding due dates. This is where Remind Me Faster comes in.
Created by Nick Leith five years ago, Remind Me Faster is a quick entry utility for Reminders. That's all it does. When you launch the app, you're presented with a blank text field and you can immediately start typing. Type the reminder you want to add, hit the Save button, and the item gets saved in the Reminders app. Remind Me Faster uses the native EventKit framework to add items to Apple's Reminders app in the background, so you don't have to deal with custom shortcuts or URL schemes that launch the full Reminders app. Remind Me Faster resets to a blank text field after you've added a reminder, which makes it an ideal utility to quickly create multiple tasks in a row with as few taps as possible.
Now, the straight-to-input nature of Remind Me Faster would already be interesting as a product, but it's the plethora of options that make this app special and worth checking out if you're a Reminders user. First, you can save reminders into specific lists by swiping horizontally onscreen to instantly switch between them. The app plays a subtle haptic tap as you do, which is a nice touch I like. The order of lists becomes muscle memory soon enough, and you'll find yourself swiping, say, twice to get to a specific list in no time.
Then there's excellent support for dates, presets, and natural language input, which are available as standalone In-App Purchases in the app's settings. With natural language input, the app will detect dates and times in the reminder you've typed and offer to use them as due dates and alert times for the task. You can choose to automatically use detected dates, so you won't have to confirm the recognized date and time at all; I turned this on to make interactions with the app as fast as possible. Furthermore, you can create up to three presets for commonly used times of the day. These preset times float above the keyboard and allow you to quickly set a due time without typing it. In another sign of how thoughtful Remind Me Faster is, presets are automatically dimmed if that time of day has already passed. There are also convenient shortcuts for hour increments (1, 6, or 24 hours), plus a button to open a full date and time picker.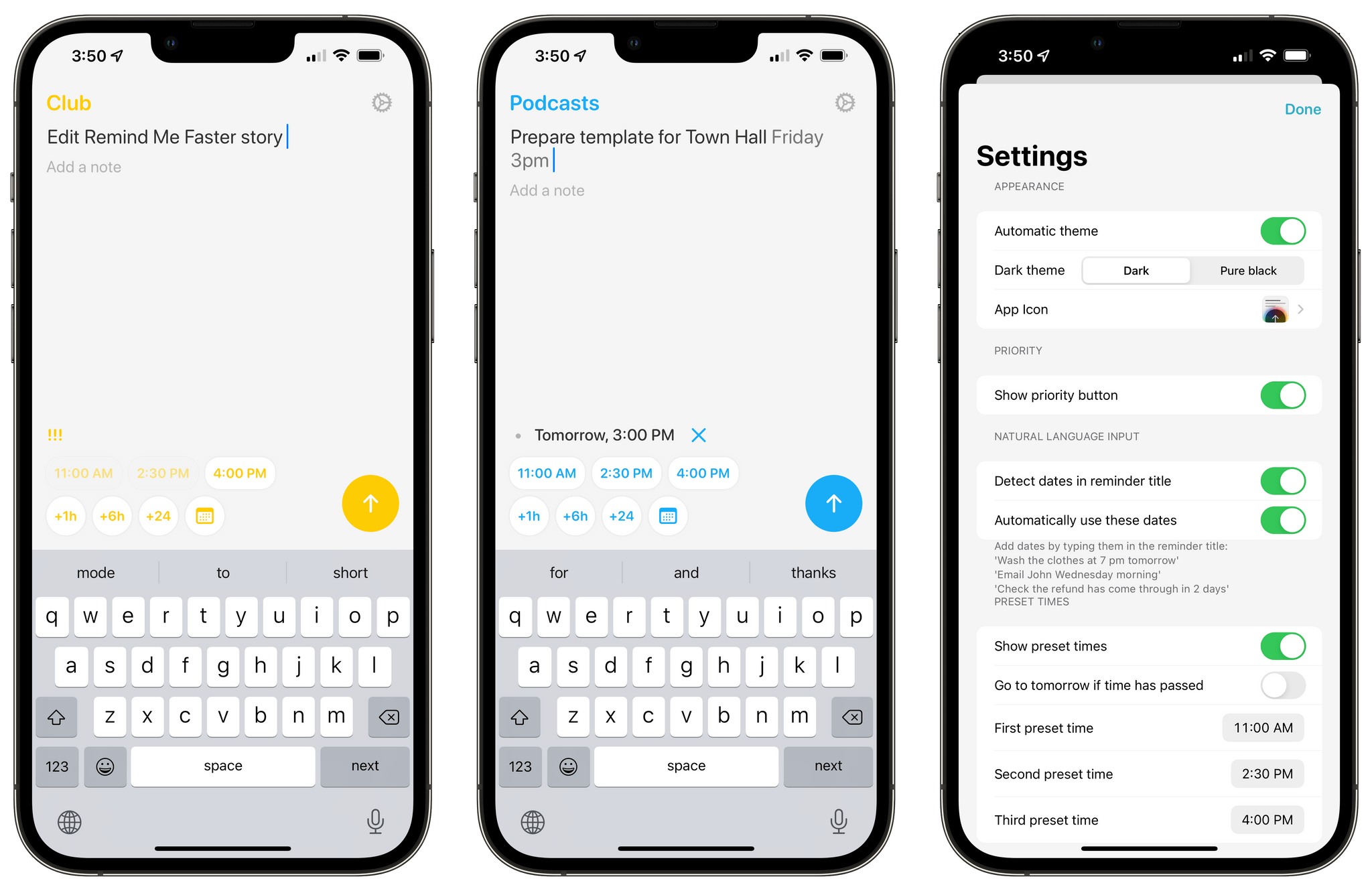 Remind Me Faster's input screen and settings.
You can also set priorities in Remind Me Faster's input screen. This is important for two reasons: Apple's own task entry UI doesn't have buttons or keyboard shortcuts for priorities, and priorities are the only way to create custom Smart Lists with a deeper level of filtering than tags. This is a longer topic for another time, but essentially: in Reminders, you can only create Smart Lists that filter tasks by the presence of a tag; you cannot create more complex queries for filters such as "this tag AND not that other tag". With priorities' three different levels of task importance (low, medium, high), you can open up a whole new layer of Smart List filtering that is, for some reason, somewhat ignored by Apple. In Remind Me Faster, you can set priorities quickly by tapping a dot button in the bottom left corner. If you plan on putting together native smart lists for Reminders in iOS 15 with filters that go beyond tags, Remind Me Faster is an excellent companion to leverage priorities as an advanced filter.
Due to platform limitations, Remind Me Faster doesn't get access to modern Reminders properties, including tags, rich links, attachments, and subtasks. This is not developer Nick Leith's fault: Apple's EventKit framework badly needs an update to support all the different properties that can be attached to a reminder now. Until Apple improves their API, that means you won't be able to add native tags or URLs to reminders created from Remind Me Faster.
Remind Me Faster is a rare example of a well-thought-out utility that does one thing exquisitely well, has been supported by an indie developer for several years, and complements a system feature by unlocking a faster, customizable experience for power users. When it comes to adding Reminders with dates, lists, or priorities, the speed offered by Remind Me Faster is unparalleled. If you're a heavy Reminders user, do yourself a favor, get Remind Me Faster, and put it in your dock. I hope Nick Leith will continue to update the app going forward; hopefully, Apple will also expand access to the Reminders framework in future versions of iOS and iPadOS.
Tips and tricks to master your apps and be more productive.
As we covered on MacStories last month, one of the major additions to the Reminders app this year is the ability to create custom Smart Lists that filter your reminders based on various criteria. While Reminders doesn't grant the same versatility seen in apps such as Todoist or OmniFocus for these custom views, there is a surprising degree of customization enabled by Smart Lists that should make the app more palatable to folks who have always wanted to do more with Reminders. Arguably, tags are the most important filter that Apple added to Reminders in iOS and iPadOS 15, enabling you to organize your tasks with an additional layer of categorization that goes beyond the classic folder structure. As John explained in this story, tags are centerpiece of custom Smart Lists, and they are prominently featured in the Reminders sidebar via the new tag browser.
There's only one problem with Apple's system: inexplicably, you can't add tags to a reminder when using Siri. System-wide integration with Siri is one of the greatest advantages of Reminders over third-party task managers: without having to use any additional syntax, you can just say "remind me to…" and you can save a new task from anywhere with support for background sync on all Apple devices over iCloud. It's terrific. And yet, for whatever reason, Siri has no idea how to assign a tag to a reminder. I've tried all possible combinations, and I've even checked with a few friends at Apple: Siri doesn't support adding tags to reminders at all for now.
The good news, however, is that I've found a workaround that sort of gets the job done in the meantime. If you create a smart list that filters reminders by tag, then ask Siri to "add [reminder title] to [Smart List name]", the newly created reminder will inherit the tag used as filter in the smart list. The reminder will be created in your default Reminders list, but, at the very least, with this technique you'll have a tag assigned to the reminder without having to do so manually in the app.
In the example below, you can see how I created a Smart List called 'MacStories' in Reminders that filters reminders tagged with 'Work'. When I ask Siri to add a reminder to the list 'MacStories', the reminder is actually saved in my default 'Reminders' list, but it gets tagged with 'Work' because it inherits it from the smart list I specified in the Siri request.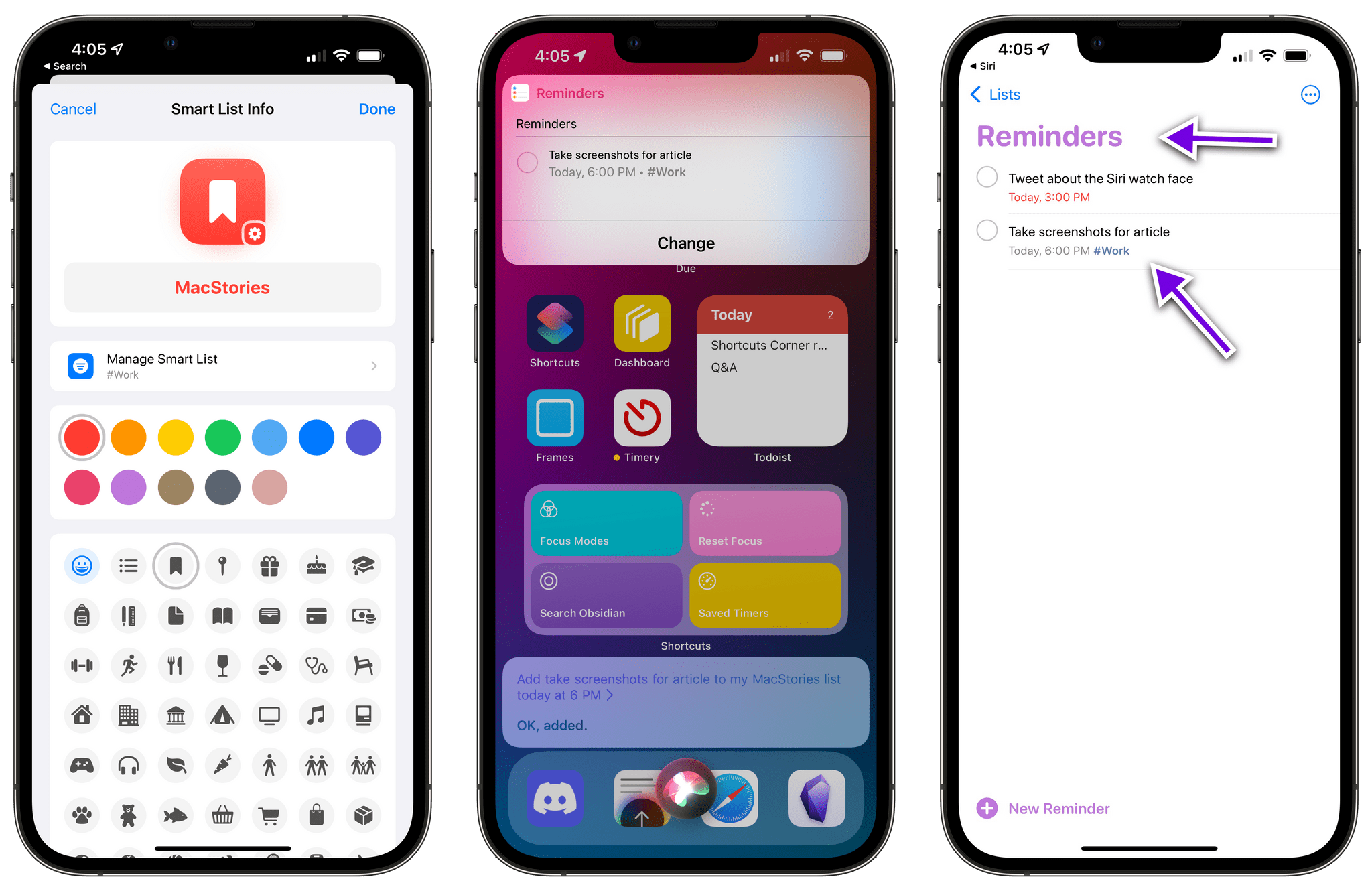 To create a reminder with a tag from Siri, add it to a smart list that filters reminders by tag. The reminder will inherit the tag from the smart list.
Now, I know this is not ideal. Here's what I think Apple should figure out for Reminders and tags in the near future:
Support creation of reminder with tags from Siri
Support adding tags to existing reminders from Siri
Update the 'Add New Reminder' action in Shortcuts with tagging support
Until these features are added to Siri and Shortcuts, we're stuck with adding tags to reminders manually or via the workaround I described above. Here's to hoping we won't have to wait until iOS 16 for these.
Exploring topics beyond our day-to-day coverage.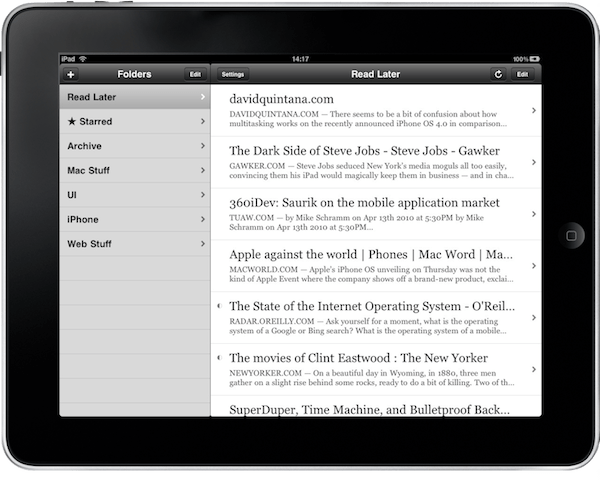 Instapaper 2.3 from the MacStories archives.
I've been using read-it-later apps since they first appeared on the scene and RSS services for even longer. So, when Matter launched its public beta and Readwise published a long post about how it's building a modern reading app, it got me thinking. What should a reading app look like in 2021?
I started using Instapaper before it was an app. Back then, it was a web app for reading saved articles in a browser. It's not that Marco Arment picked the web over the iPhone for the app, it's that there wasn't an App Store yet.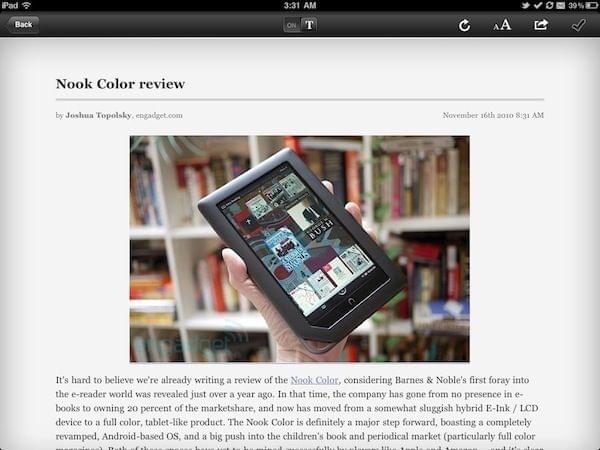 Read It Later 2.3 from the MacStories archives.
Instapaper arrived on the App Store not long after it opened its doors. In those early days, its main competitor was an app called Read It Later, which eventually became Pocket. Those early apps were about stripping the cruft out of articles and making them available for offline reading in a UI focused on creating a good reading experience.
Stripping out ads and other unnecessary elements from stories was more than a design choice or stance against intrusive ads. In those days of EDGE mobile networks, a stripped-down version of articles and offline access to them was a way to make your iPhone useful even on a commute through wireless network dead zones.
Instapaper and Read It Later were fierce competitors, pushing each other to innovate with a constant stream of new features. To this day, one of my favorite features is Instapaper's highlighting, which doesn't break when you switch from portrait to landscape mode. As the two apps competed, it was readers who reaped the benefits.
But then, something changed. Read It Later became Pocket and moved to a freemium model. Arment sold Instapaper to Betaworks, and Pocket grew rapidly but mostly by acquiring free users. There are many steps in between, but today, Instapaper is once again run by a small team, and Pocket is part of the Mozilla Foundation.
The history is a cautionary tale about app competition. The rivalry between Instapaper and Read It Later benefited users at first as one tried to outdo the other with clever features. That competition didn't end when Read It Later became Pocket and switched to freemium, but Pocket decided to play a different game. Instead of competing on how to best serve users, it began competing for users. User acquisition and market share became more important than innovating, and readers were the ones who lost.
Instapaper and Pocket each have their advantages as read it later apps, but it's been a decade since either was on the cutting edge. It's that innovation gap that has attracted companies like Matter and Readwise. It's still too early to tell whether either of them will dominate this next era of read-it-later services, but I'm excited about what the future holds because it's starting to feel like 2008 all over again.
That's gotten me thinking about what I'd like to see in a modern read-it-later app. It's a harder problem to solve than it first appears. Reading habits and content sources are all over the place between the web, RSS, email newsletters, eBooks, PDFs, Twitter, and more. Saving media for later isn't just about text anymore either. Links to videos and podcast episodes regularly cross my path and compete directly with text for my attention. To accommodate the vast number of media types and reading styles isn't easy, but here are some of the important boxes I think a read-it-later app needs to tick in 2021:
Simple Saving Everywhere. The more ways to get information into a read-it-later app the better: the iOS share sheet, browser extensions, bookmarklets, you name it. There's overlap, but a read-it-later app is only useful if you've saved something for later, so importing is critical.
Organizing. Giving people a lot of ways to save the vast universe of online information for later means items pile up fast. Some of those items may be saved for personal leisure reading. Other items may be work-related or specific to a project you're working on. My point is that people save items for a variety of reasons, which means systems like folders and tagging are a must. Better yet, make those systems available up front at the time of saving like GoodLinks does with its share extension. That's the perfect time to apply a bit of metadata that makes browsing what you've saved easier.
Navigation. Moving around a lot of data can be a chore, which is why things like keyboard shortcuts are critical, allowing power users to manage large collections of saved material faster.
Processing. One long chronological list of stuff isn't enough. A read-it-later app needs to be filterable and sortable by as many criteria as possible. Folders, tags, and dates are all important ways to sort and filter, but so are criteria like how long a story is. This is also where I'll make my pitch for the importance of native apps that support things like the iPad's multiwindowing and drag and drop, which make managing large sets of saved items easier.
Search. No matter how good an app's sorting and filtering are, it's not enough. Fast search with advanced Boolean operators and the ability to save searches based on keywords and metadata allows users to search once and revisit the results as new things are added to their collection that meet the search parameters.
Reading/Viewing Experience. The reading experience and viewing experience for video are important. For articles saved from the web, that means a parser that strips out what you don't need to see but preserves important bits of metadata like who wrote a story, where it was published, and when. Fonts, margins, and line spacing should all be customizable too, and dark and light modes are essential. A good example of this sort of customization done right is Reeder.
Exporting. A read-it-later app is the final destination for a lot of what I read, but not always. Sometimes, it's a waypoint for links I'm going to write about in MacStories Weekly, for instance. That's why getting links out of a read-it-later app in multiple formats, including Markdown, is important. However, exporting goes beyond links though and should include ways to pull quotes out of a story to share on social media and elsewhere.
That's a lot, and I'm sure I've missed a few things, but I think you can probably see that a good read-it-later app is not a simple thing in 2021. I want to save things for skimming later, relaxing and reading at my leisure, but I should have the option for saving video, audio, and Twitter threads too, and I want to slice, dice, and share everything quickly and easily anywhere I want.
I'm not sure where this is all heading, but I'm looking forward to what's next. Instapaper was the first third-party app I installed on an iOS device, and as 2021 comes to a close, I feel like we're on the cusp of a second golden age of read-it-later apps.
Highlights of the latest Club MacStories+ happenings.
It was a busy week on the Club MacStories+ Discord, and I've tried my best to collect highlights from the community below. There isn't a Discord URL scheme to reopen these links in the Discord app directly; my preferred approach for these is to view them as separate tabs in Safari for iPad or Mac.
Following last week's story on Due for personal reminders, member Tony shared how he's been using Due for self-care with periodic reminders and words of encouragement throughout the day. This is an approach I may steal in the future.
If you're looking for some inspiration on how to use Focus modes on iOS and iPadOS, check out Peter's Focus setup and how he's created multiple modes for different activities on his devices.
Member Jarrod has done something incredible: he collected historical stats for my iOS and iPadOS reviews, put them in a spreadsheet, and visualized key elements from those reviews and changes over time with charts. I'm especially happy to see those declining numbers this year.
Want to join the the Club MacStories+ Discord? Upgrade to Club MacStories+ or Club Premier, then visit the Account page.
Great reads and links from around the web.
The Logitech MX Keys is one of my favorite keyboards, but I've never liked how big it is. The Logitech MX Keys Mini dispenses with a dedicated number pad for a form factor that is much closer to Apple's Magic Keyboard. (Link)
There are quite a few Android-based e-ink tablets out there that serve as eBook readers and note-taking tablets. If you've ever wondered how they compare to the iPad, be sure to check out Jason Snell's review of the Boox Nova Air on Six Colors. (Link)
If you're interested in Metroid Dread, don't miss today's episode of MacStories Unwind (out later today) or this article by Polygon's Maddy Myers, who get into the franchise's backstory. (Link)
If you have a spare 3,500 Euros lying around, this new Van Moof electric bicycle looks cool and goes fast. (Link)
Ecobee thermostats will be the first third-party devices to support Apple's Siri voice assistant. (Link)
Noteworthy new app releases and updates, handpicked by the MacStories team.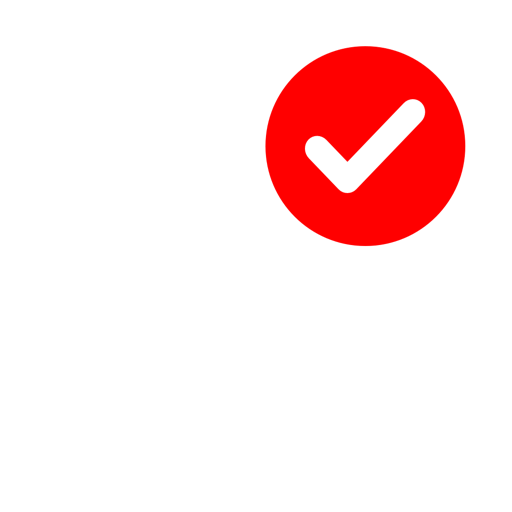 The Reminders client inspired by the design of the Home app has reached version 4.0 and it now comes with a sidebar on iPadOS and macOS, making it easy to navigate between lists in the app. Additionally, Memento supports the new XL widget size on iPadOS 15.
---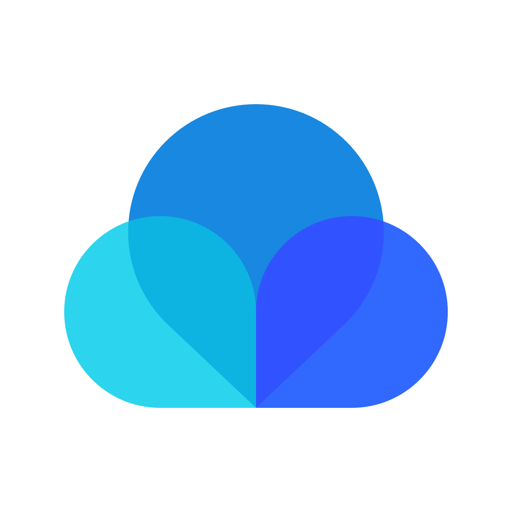 The iPhone and iPad app for the popular bookmarking service was updated earlier this week with a brand new Safari extension modeled after the same one previously seen on desktop browsers, and I have to say: alongside 1Password, this is the most technically impressive extension I've seen to date.
The Raindrop extension is, effectively, a mini Raindrop app living in Safari. Upon installing it, you can choose to use it as a simplified web clipper (which is only used to save bookmarks to webpages) or as mini app, which lets you navigate and manage Raindrop collections inside Safari. You can browse, search, and share collections from the Safari extension; you can even hover with the pointer over existing bookmarks to access buttons to edit them or reopen them in new tabs. I want to include screenshots for this because a description doesn't do it justice; this is precisely what I thought we'd see when I wrote in my iPadOS 15 review how web clippers were perfect for Safari on iPad.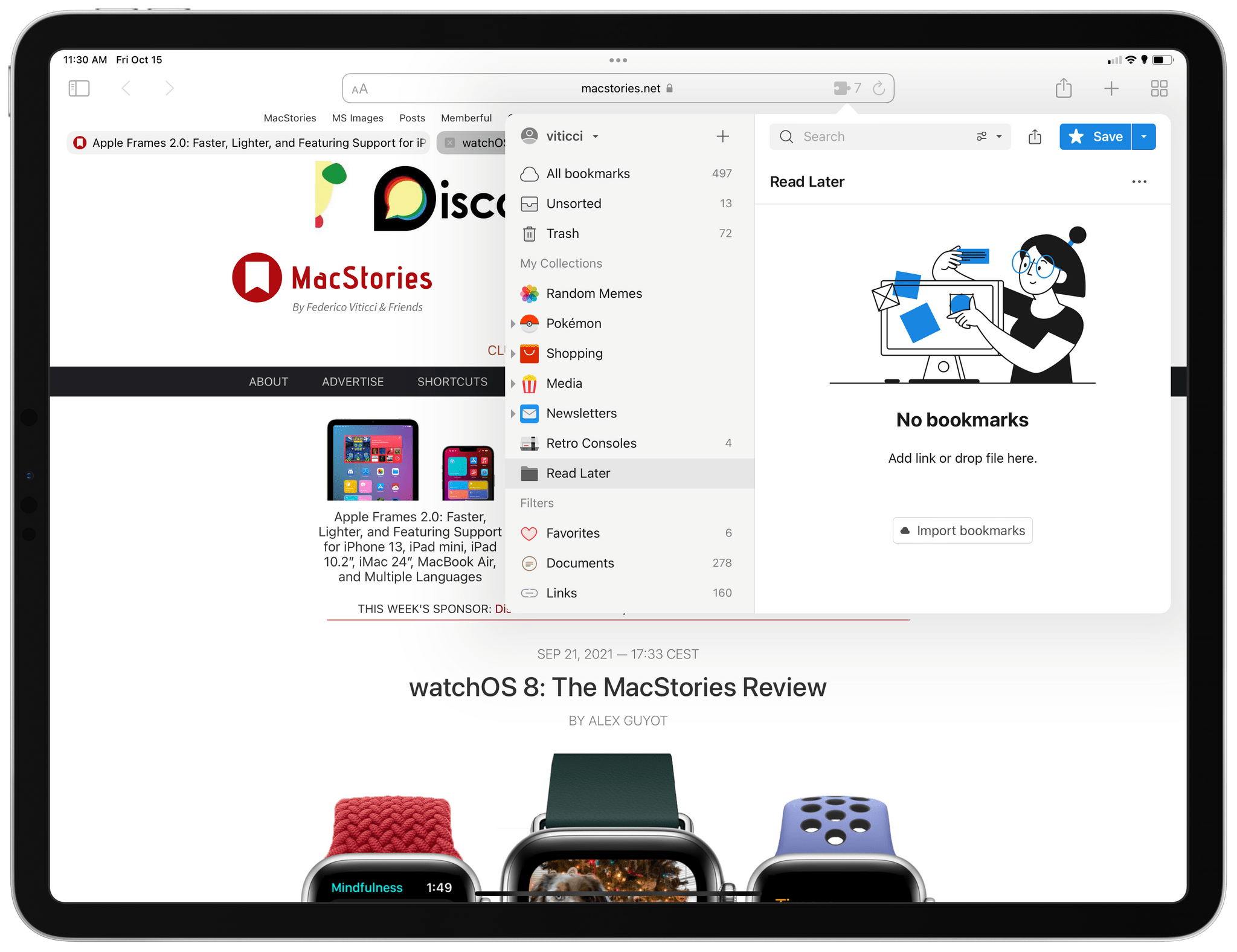 The extension in mini app mode.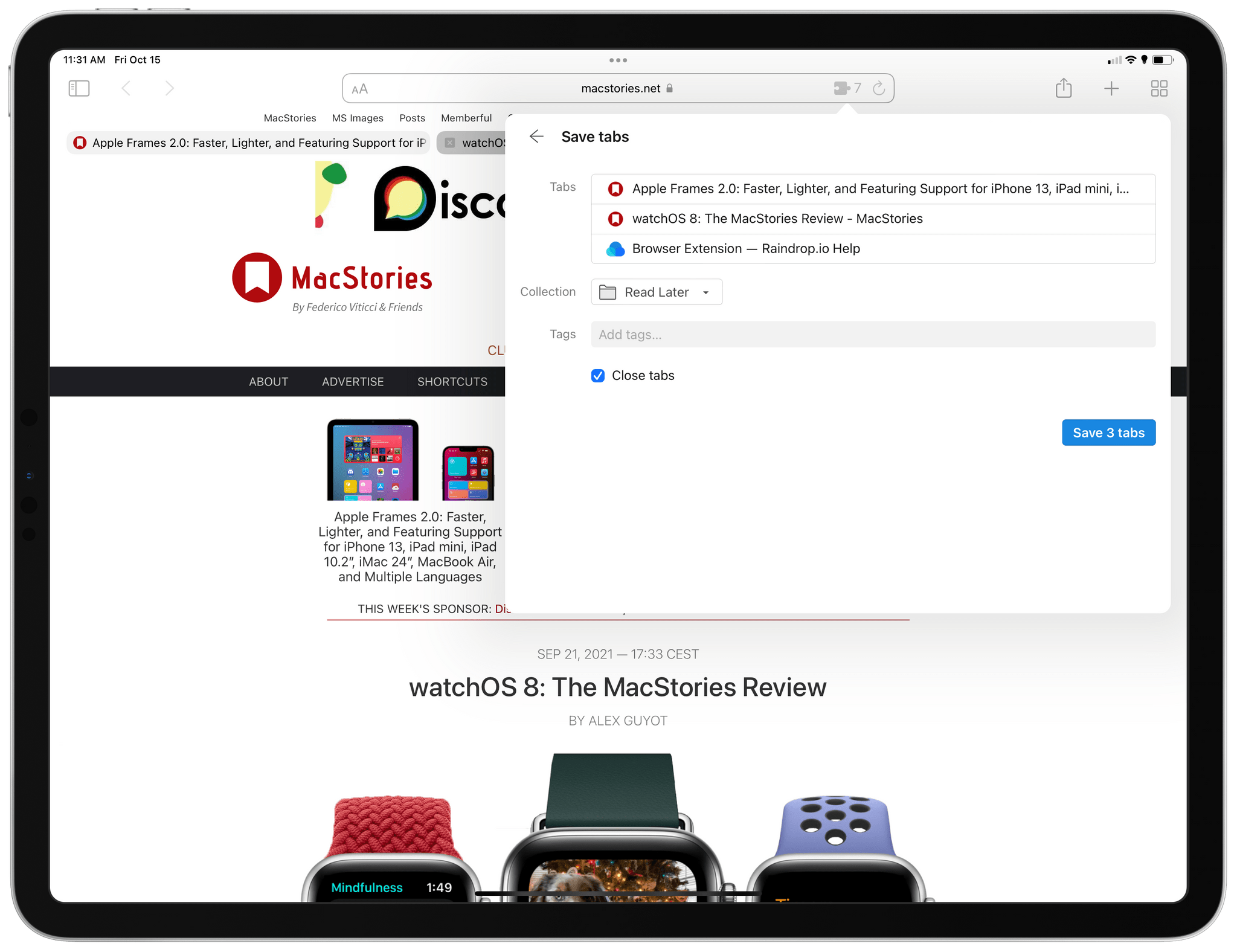 Saving multiple tabs at once.
The extension is even more remarkable when you consider it can perform actions when saving links that not even Apple's own tab groups can do with Safari Reading List. For instance, if you have multiple tabs open, the Raindrop extension gives you the choice to save them all at once and optionally close those tabs. This is perfect for all those times when you open a bunch of tabs and realize you want to read them later or save them as offline copies for research purposes or other reasons. You can, of course, add descriptions, tags, pick collections, and more. The Raindrop extension has raised the baseline for web clippers on iOS and iPadOS; this is the new standard to beat.
I should also mention that the app's latest update has brought a completely revamped search screen that supports a plethora of new filters. You can now match any condition or exclude conditions; search operators now include date created/updated in a specific date, any part of a URL, and the ability to find only in title or description (if you disable full-text search). As you can probably tell, I'm impressed by this latest Raindrop update, and I plan to spend some time over the weekend thinking whether it can be used as a replacement for Safari Reading List or not.
---
The excellent app to view liner notes by Marcos Tanaka has been updated with support for ShazamKit, a new framework for iOS 15 that lets apps perform music recognition with the same tech that powers Apple's Shazam app. This way, you can recognize songs inside MusicSmart and immediately view liner notes for them if you're interested in, say, quickly knowing who produced or mixed a particular song.
---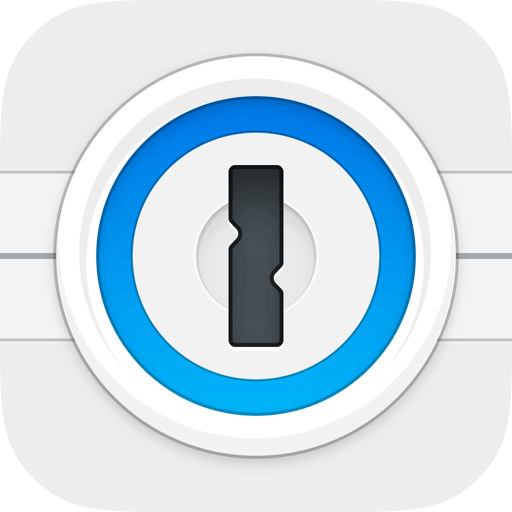 1Password has launched the ability to share logins, secure notes, or any other item from the app with anyone simply by generating a link to a private webpage. You can choose to make shared items (which have long and essentially unguessable URLs) available with anyone with a link or only share them with specific contacts via email, and you can also set an expiration date. This means sharing a 1Password login with anyone, even if they don't use 1Password, is as easy as sharing a Dropbox link, and I like this idea a lot.
---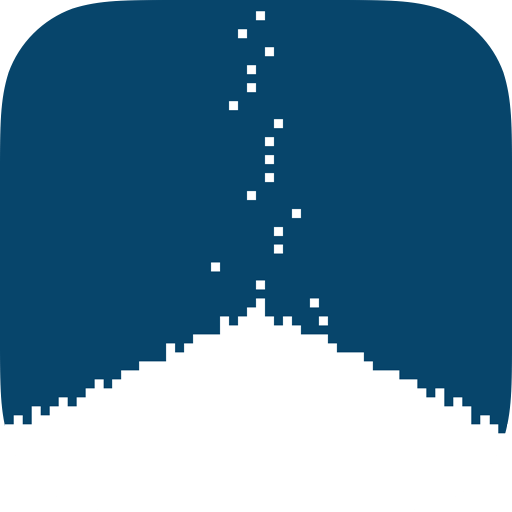 If you're looking for an idle puzzle game to pass the time, Sugar is fun. The objective is simple. Sugar pours from a spigot and you need to get 100 grains into a coffee cup. Why? Who knows, but you guide the sugar by drawing lines on the screen with your finger to guide the sugar past obstacles and into the cup. The animations are simple but well-done and the puzzles can be very challenging at times. I've played similar games before, but Sugar is a fun take on the genre, worth checking out.
---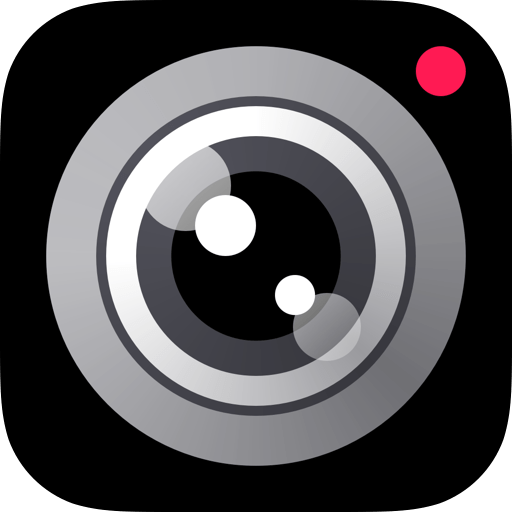 Video recording apps continue to adopt ProRes, an iPhone 13 Pro-only feature. This week, REC added support for the format with 4:2:2 chroma sampling, allowing users to pick between 422 Proxy, 422 LT, 422 and 422 HQ.
Our top stories from the past week.
Apple Announces October 18, 2021 Media Event
Apple Frames 2.0: Faster, Lighter, and Featuring Support for iPhone 13, iPad mini, iPad 10.2", iMac 24", MacBook Air, and Multiple Languages
ActiveTab Safari Extension Launched on iPad
A preview of upcoming MacStories podcast episodes.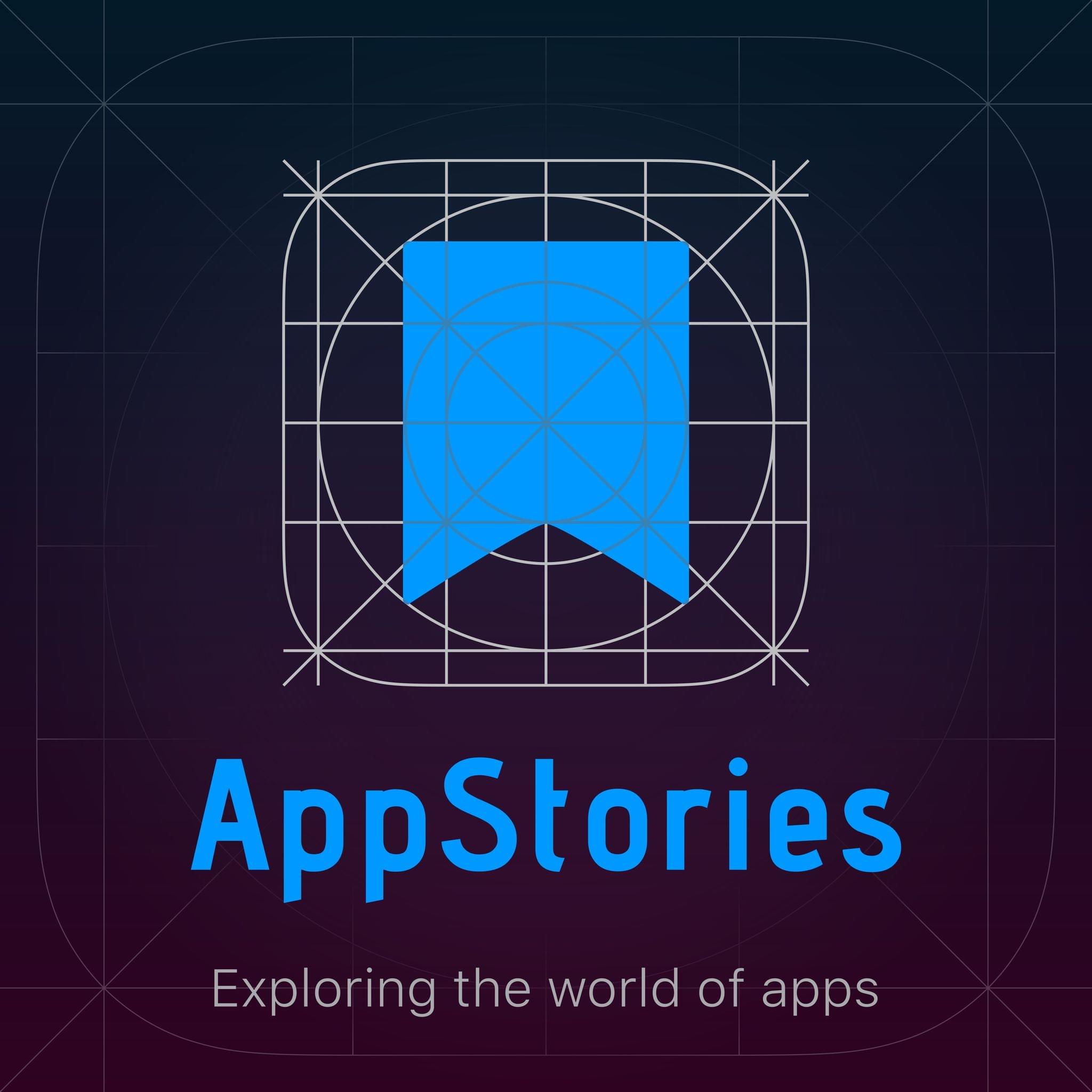 Next week on AppStories, Federico and John will be joined by Alex on a special episode of AppStories to discuss next week's Apple event. The episode will be recorded live in the Club MacStories+ Discord community and released publicly on Tuesday, October 19th.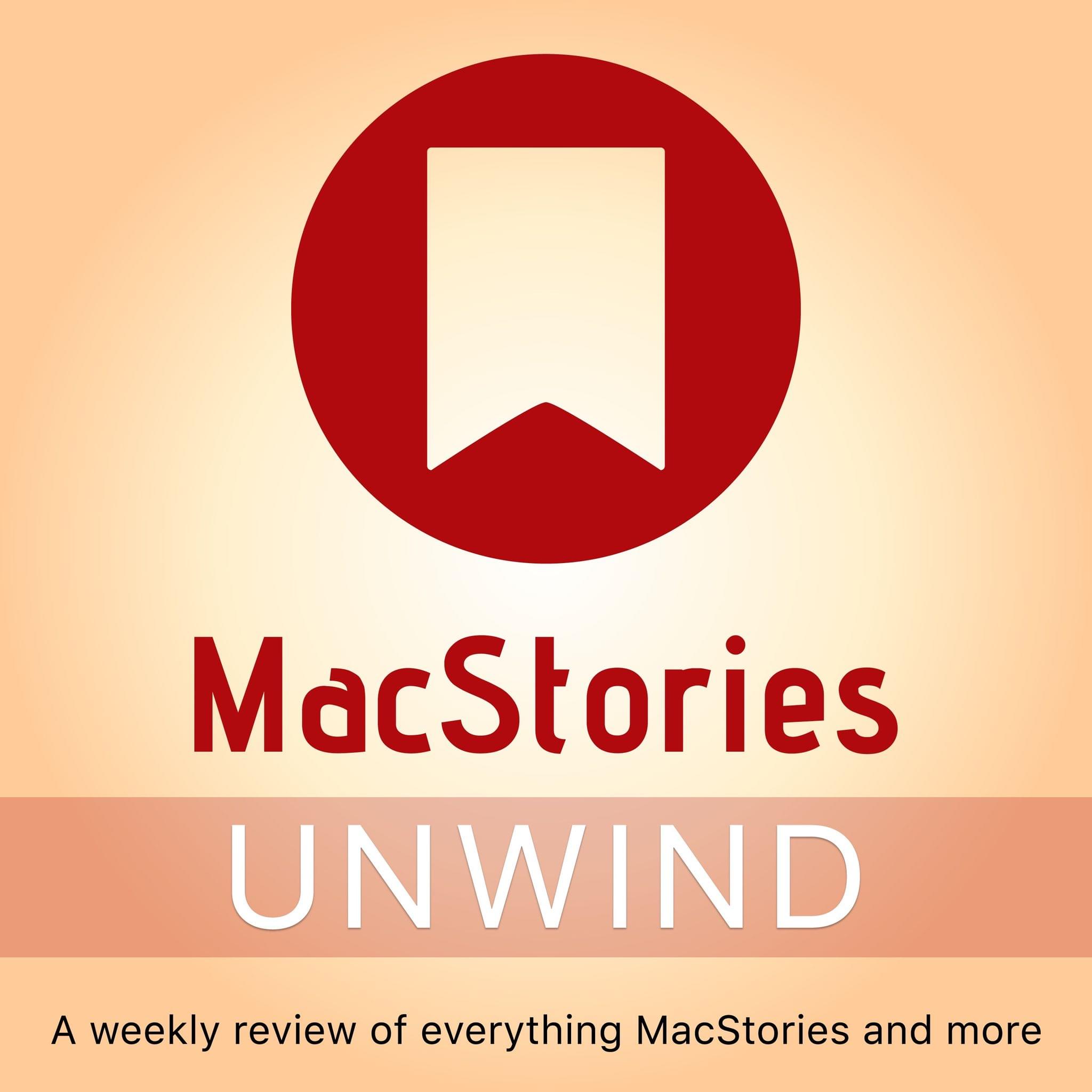 This week on MacStories Unwind, version 2.0 of Federico's Apple Frames shortcut, the upcoming Apple event, ActiveTab is released for the iPad, plus videogame and app recommendations for the weekend.